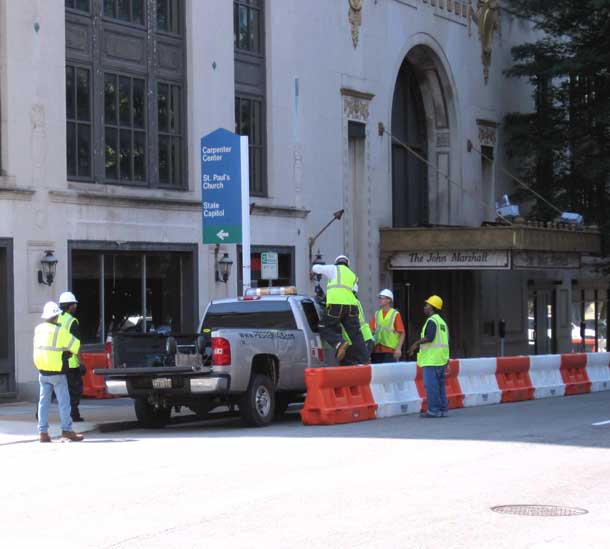 After years of hype and a decade of false starts, construction has started on a $66 million renovation of the iconic Hotel John Marshall. Crews are assembling the fence around the site, and demolition workers are taking out the old furniture.
Demolition will take between nine months and a year, according to a laborer at the site who also said the building will need to have asbestos removed.
Dominion Realty Partners, the developer, said it will put in 238 apartments and 20,000 square feet of retail space. The building will be called the Residences at John Marshall, and there is a sleek website.
Dominion Realty Partners, which also developed Vistas on the James and Riverfront Plaza, filed plans with the City in May 2009. But there was no financing until HUD agreed to lend $40 million. The project will also rely on revenue from the sale of historic tax credits.
Close followers of local apartment real estate said that although condos and apartments at nearby buildings have been slow to lease or sell, the project is of such a magnitude and in such a well-known building that it should thrive. It's also close to MCV, which could draw medical students and other young professionals.
"There has been a strong push for apartments that's generated by VCU demand," said Birck Turnbull, a broker with Thalhimer.
Turnbull said the building would likely compete with the ones in Shockoe Bottom that are walking distance to MCV. "There are not a lot of apartments in the immediate vicinity, and it may tap into a new demand, or some demand that hasn't been discovered yet," he said.
Turnbull also said having covered, secure parking would be a huge asset to the property.
"It's a landmark property and probably comparable to building in a much bigger market like Chicago or Manhattan," he said.
It's unclear whether Dominion will rent to students or not or what the rental rates might be. BizSense was unable to reach someone from Dominion but will continue trying Friday.
Apartment vacancy is rising for the City of Richmond north of the James River, according to statistics from Apartment Index, an research firm for the apartment industry. Vacancy rose to 8.6 percent in January from 7.1 percent in July 2009.
Average rents for the area are $941 a month, the highest in the Richmond region, according to Apartment Index.
The John Marshall closed in 1988 but was opened on a limited basis as a hotel in 1999. It closed again in 2004.
The new plan call for studios, one-bedroom and two-bedroom apartments. The top floor, which was once a glorious ballroom with 360-degree views of the city and the river, will be converted into larger apartments. The ballrooms on the ground level, which were used for the 2007 movie "Evan Almighty," (with Steve Carell) will be reconditioned to their 1920s heyday, according to Dan Joy, an architect with the Atlanta-based firm of Rule Joy Trammell + Rubio, which helped design the project.
The plans also call for a fitness center, Joy said, but no pool.