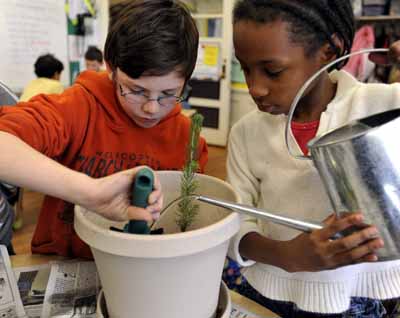 Richmond, Va. – More than 30,000 third-grade students will be able to plant the equivalent of almost 75 acres of new forest lands and learn about the environmental benefits of trees thanks to an award-winning program provided by Dominion Resources and its subsidiaries.
Dominion's Project Plant It! has grown in its fourth year to include school systems in six states in the Mid-Atlantic and New England regions. The program was developed to educate children and to improve the environment. School systems in Maryland and North Carolina are participating for the first time this year, joining schools in Virginia, Connecticut, Massachusetts and Rhode Island. Program information is available at: www.projectplantit.com. To view b-roll video of students participating in Project Plant It!, visit: http://www.dom.com/about/media-downloads.jsp
"Project Plant It! is a natural offspring of our company's commitment to education and the environment," said William C. Hall Jr., vice president – Corporate Communications & Community Affairs for Dominion. "Since its launch in 2007, this program has provided an innovative, creative way to engage students and their families in learning about the environment. Most importantly, children can make a personal contribution to our ecosystem by planting a tree on Arbor Day and watching it grow over the years."
Teachers participating in Project Plant It! received a comprehensive kit of instructional materials, including lesson plans, posters, a DVD with videos about planting trees, and stickers and certificates. At the conclusion of the program, each student will receive a tree seedling to plant at home on Arbor Day, April 30. The educational materials and the tree seedlings are provided by Dominion at no cost to the schools.
"All of the materials in the Project Plant It! teacher kit align with the state Standards of Learning for science and other core curriculum subjects such as math, language arts and social studies," said Laura Marshall, a third-grade teacher at Grange Hall Elementary School in Chesterfield County, Va. "The program makes learning about trees fun and interactive for students. It's a wonderful hands-on learning opportunity."
According to the Virginia Department of Forestry, the equivalent of almost 75 acres of new forest land will be created if all 30,000 tree seedlings are planted and grow to maturity.
Information about Project Plant It!, lesson plans, additional activities about trees, and videos about planting and caring for trees are available at: www.projectplantit.com.
Dominion is one of the nation's largest producers and transporters of energy, with a portfolio of more than 27,500 megawatts of generation. Dominion operates the nation's largest natural gas storage system and serves retail energy customers in 12 states. For more information about Dominion, visit the company's Web site at www.dom.com.