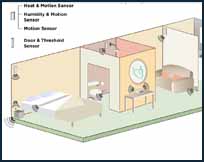 A Charlottesville startup has moved to Innsbrook.
WellAWARE, which sells monitoring systems for senior citizens, has about 20 employees and according to chief executive Jeff Noce is looking to hire between 15 and 20 more over the next six months.
"Richmond is the best mix of everything we need, from proximity to the airport and a large employee pool," said Noce.
Noce said the company will be looking for sales staff, as well as hardware and software engineers.
The new space at 5500 Cox Road is 6,000 square feet, about three times larger than their previous office, which Noce said they had outgrown since launching in the second quarter of last year.
"We are working with about 15 different [senior care] providers in various stages of deployment," said Noce.
He said there are about 400 individual patients using the system. By the end of the year, he hopes to have 25 providers on board and 1,000 units in place.
The WellAWARE system consists of a series of sensors installed in the senior's room that relay information to a computer or device monitored by a caregiver.
"The easiest analogy is that it is like the type of technology used in a car engine. When something is detected that might cause systematic failure, you get a warning light on the dashboard," Noce said.
The sensors monitor such factors as frequency and duration of eating, sleeping, bathing, toilet use and physical activity.
Caregivers purchase the system for each patient as a contract with WellAWARE. The price includes an activation fee that is about $250, and the monthly fee is between $70 and $110.
The company has clients in various states including Minnesota, Florida New York, and Virginia, according to Noce.
He said he is currently in negotiations with California clients as well.
The system was developed in 2000 as project of the Medical Automation Research Center at the University of Virginia. The researchers entered into a joint venture with nonprofits Volunteers of America and the Good Samaritan Society to test the system.
Last year, Noce led an effort to raise $8 million in private equity following the system's commercial launch. Noce previously worked for the assisted living chain Sunrise Senior Living as vice president of new business ventures.
Noce said the company has a few competitors in the country, but he said they are the only company that has validated and tested systems before coming to market, in addition to having a patented process only they can use.
"It is an emerging field," said Noce. "We are helping to building the industry and our business at the same time."
Al Harris is a BizSense reporter. Please send news tips to Al [at] richmondbizsense.com.