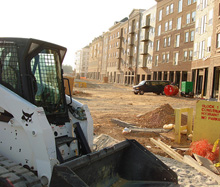 Two veteran homebuilders/business partners are wearing new hats these days, running a multimillion-dollar fund that works with banks on stalled real estate projects. And the key is their finance guy, Charlottesville-based Stan Manoogian of Piedmont Capital Partners.
Their biggest investment for E/Class MB Partners Fund I – which is run by Bryan Kornblau and Bud Ohly in addition to Manoogian –was $9 million into the distressed West Broad Village. They intend to raise $50 million and didn't share the exact size of the fund, other than to say they're not at $50 million yet.
In late 2009, the developer, Florida-based Unicorp, was falling farther and farther behind. Even buyers who had all but paid for homes at West Broad Village couldn't move in because of mechanics liens.
So the founders of fund came in and provided capital and construction services to finish the project. They paid off all the liens and finished amenities that residents wanted.
Now that the project is back on the up-and up, tenants are coming back and all is swell, they say.
Last week BizSense sat down with the three principals of E Class to talk about the origins and the ambitions of their fund, what they see in the homebuilding environment, and how they want to put $50 million into projects around the mid-Atlantic.

Below is an edited transcript.

Richmond BizSense: What exactly does the fund do?

Bryan Kornblau: We come in and help get distressed projects completed. We attempt to close the gap between that liquidation value [for example, if a bank forecloses on a property and sells it at liquidation] and what the investment level is. A lot of banks can't afford to liquidate, so we try to get it to a much better place. For example, if a townhouse is half-finished, the bank can recover more if we come in and provide some capital and finish the constructional and sell a finished townhouse than if the bank liquidates a partially-built structure.
The key is that we have the skills to finish it, and we can offer capital to get it done.
RBS: What sort of investments do you make?
Stan Manoogian: We have two buckets of investments. Short-term ones are a year or less, and with capital and our execution, we get to the outcome and redistribute the capital [to investors or into new projects]. With longer-term investments, we plan to take three to four years. West Broad Village is a longer-term investment.
At West Broad Village, since we closed in December, we've sold 54 lots to builders, leased 100 apartments and leased 85,000 square feet of retail space. We've also paid down $2.2 million in debt and put $1.1 million in escrow for future construction.
We see four years ahead for good investments. Residential took the bullet starting in 2007, and commercial is following. It took a while to develop and will take a while to work out.
RBS: What are the origins of the fund?
Bud Ohly: Back in August 2006, we thought things were getting crazy. Lenders were willing to lend you 110 percent of the cost of a home. So we've been preparing for quite some time.
Bryan Kornblau: In 2008, we spent months trying to sell our services to banks. They were reluctant to realize the depth of the problems. It was extremely frustrating.
RBS: Who are your investors?
Bryan Kornblau: Family and friends, but now we are getting some interest from institutional investors.
RBS: Why aren't banks better off foreclosing and selling to other developers? That way they avoid paying your fee.
Stan Manoogian: Foreclosures destroy the perception in the minds of customers. The property will be scarred forever, and buyers are never quite willing to accept the long-term viability.
RBS: Let's talk a bit more about West Broad Village. How did you have confidence that when Unicorp was sucking wind, it wasn't because the project was a bad idea? How did you know it wasn't a misplaced concept doomed to fail?
Stan Manoogian: You can't replicate that location, near John Rolfe Parkway and 295. That location was a huge draw. And when we peeled the onion back, we saw that it had a good asset mix, but the brokers hadn't been paid, and customers couldn't close on lots.

Aaron Kremer is the BizSense editor. Please send news tips to [email protected]