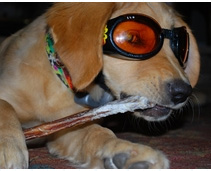 A Richmond-based pet supply company has the sort of story that would make most other entrepreneurs green with envy. For starters, the pet industry is exploding as Americans spend more and more on pampering their pets. And customers seem willing to pay a premium ($35 for a brush, for example), which makes for fat profit margins.
Avrum Elmakis and his wife started Bully Sticks in 2007. Last year, when BizSense first wrote about the company, Bully Sticks had three employees and one main product.
Now the company has nine employees and sells more than their signature dog treat, including other dog-related products and things for cats.
RBS caught with Elmakis over the weekend to find out more about his business.

Below is an edited transcript.

Richmond BizSense: It's nice to talk again. What's new?

Avrum Elmakis: We're expanded into everything. When we talked, I think we had treats and chew items. Since then we've started to see major changes. We acquired another online retailer, and we expanded into dog food, dog leashes, dog shampoo. We also launched into cat toys.
RBS: Is the pet industry still booming?
AE: Yes. Proctor and Gamble got into it. Tyson Foods in 2010 launched a pet product division. There are major expansions in space. And for us, 90 percent of what we do is consumables. So customers come back and buy every 30 to 45 days.
RBS: Are your Bully Sticks still the big seller?
AE: That's what we're known for. But now people will place an order for Bully Sticks and also order treats and maybe a dog supplement or a dog anxiety pill.
RBS: How has recession affected your business?
AE: It hasn't. We're growing. It's awesome. I guess you could say it's even helped. Most of the people who work for me have a bachelor's degree or higher. Yeah, we have a great work environment, but because of the recession we can hire high quality talent our business typically wouldn't be able to get.
RBS: Do you still operate from a warehouse near VCU?
AE: Yes, we are in same space, but now we're probably closer to 8,000 to 10,000 square feet. And because the building has fewer tenants now – on account of the economy – we can take more as we need it. I think, as we continue to evolve, we will look to purpose build something all on one level for an e-commerce distribution facility.
RBS: There's a lot of talk about states trying to tax purchases made online. Would that stifle business?
AE: If it changes, it changes for everybody. So I don't think it would really affect us.
The customers would understand it.
RBS: What are the challenges these days?
AE: Managing more people and things like that. But I love it. It's exciting. It's dynamic. It's much more interesting to me than my previous life in sales and working for somebody. We are constantly inventing ideas.
RBS: You are one of the few businesses we've covered that has used social media to noticeable and profitable effect. Why has it worked for you?

AE: Well, we are a grass-roots company, and people like to support that type of initiative. We've made it fun for them. We are constantly having contests and offering coupons. A lot of people look at social media to push things down to people as opposed to making it something that's interesting and engaging for the customer.
We've also been able to reach out to people like [dog trainer/TV personality] Cesar Millan. We would not have been able to reach out to them without Twitter.
RBS: Do you feel that it's gotten harder for you to get your message out to your customers via Twitter and Facebook now that every business seems to be jumping – or Twittering – on the bandwagon?
AE: Maybe. But we're not looking to have the most followers. As a business owner and as a businessman, I'm looking at tools for what utility they provide me. I don't have time to enter into contests with people like Ashton Kutcher.
Aaron Kremer is the BizSense editor. Please send news tips to [email protected]