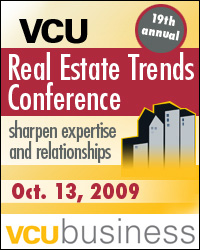 The Washington Post published a scathing editorial on how budget cuts for public universities in the state is threatening to undo the strides made by Virginia Commonwealth University over the last decade.
The Post describes VCU has the fastest growing school in state history, citing the addition of more than 8,000 students over the last decade. The article says that VCU has been a success because it provides a high quality education for in-state students (about a third of which are the first in their families to attend college) and charges only modest tuition and fees.
But now the model is threatened by a drastic reduction in state support, coupled by a 24 percent tuition hike. According to the Post state aid to the school was cut 20 percent to 2001 levels, meanwhile the student body has grown 35 percent since then.
From the article:
This is not "waste, fraud and abuse"; this is an unfolding disaster, as VCU President Michael Rao has warned. "[T]he sustained loss of state support threatens VCU's core mission as a research university focused on student learning," he wrote this spring. "[S]evere cuts over the past few years have hurt financial aid for [the neediest] and have affected class sizes, course offerings and faculty retention and recruitment. Further cuts jeopardize access, the quality of education, the value of a VCU degree and the ability to maintain our mission."

With Republicans in Richmond having ruled out new taxes for higher education, transportation or other needs, VCU had no choice but to raise its own revenue in the form of its largest-ever increase in tuition and fees — a 24 percent one-year hike for students who will enroll this fall. University officials also cite a "hidden tax": Because courses required for majors are often oversubscribed, some students are unable to graduate in four years and therefore must stay longer and pay extra tuition.

The money from the big tuition hike will go toward hiring additional faculty, plugging holes in financial aid and helping stanch the bleeding from ongoing state budget cuts. No one expects it to be enough; another substantial tuition bump is likely next year, putting the squeeze on thousands of middle-class families statewide.
The article places most of the blame on state Republican's anti-tax policy, but also former Governor Tim Kaine for cutting state support too deeply.
The article concludes that Governor Bob McDonnell's campaign promise to have Virginians earn 100,000 more college degrees over the next 15 years will prove to be an empty one unless he finds away to restore state funding for VCU and other state schools.