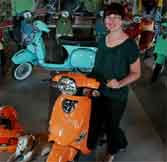 Other than walking or riding a bike, riding a scooter/moped is the most fuel efficient way to commute around town. For Scoot Richmond, a scooter retailer in the Manchester section of Richmond, a spike in gas prices led to a boom in sales in 2008. But then sales shrank.
Now owner Chelsea Lahmers is wondering if hatred of big oil on account of the BP disaster will lead to a noticeable spike. Plus she's a few years more experienced. And after getting past a thieving employee, she has expanded the lineup of bikes by adding the classic Italian make Vespa, and hopes to ride a new wave of scooter enthusiasm.
Late last week BizSense chatted with Lahmers about entrepreneurship and the challenge of trying to time changes in consumer tastes.
Below is an edited transcript.
Richmond BizSense: What's new?
Cheslea Lahmers: Well, we became the Vespa and Piaggio dealer for Central Virginia.
We had vintage and occasionally used Vespas, and we serviced Vespas, but now having Vespa / Piaggio adds a whole new dimension to the show room. That brings a lot of folks in who may not have known we exist. Vespa is the "Xerox" what people think of when they think of scooters.  A lot of customers coming in now who searched online for Vespas and hadn't heard of us.
RBS: Vespa is one of the best-known names. How long did you work on getting that?
CL: Five years. There were three dealers in Central Virginia. At the end of 2009, all three of those shops told Vespa it wasn't working out. But it was challenging getting a hold of someone at Vespa.
RBS: How is business?
CL: Definitely better than 2009. We also had a pretty decent May and sold 19 or 20 bikes.
RBS: I seemed to see more scooters and hear more about them when gas prices spiked. Was that true?
CL: Yes. We would be super happy to see higher gas. It makes people come in.
But Gas prices are lower now and that means folks that got a scooter in 2008 aren't riding it as much. But they are coming in for service.
Another thing we're seeing is that some of the people who bought bikes in 2008 are selling them, and that means there are some cheap bikes available. We then service those bikes.
RBS: Scooters strike me as the kind of product that could become wildly popular out of the blue, kind of like in the book "The Tipping Point". How do you create demand?
CL: The more people that ride, the more people see them riding and see them enjoying scooters. We're also fostering a local scooter club. And we are still working on ways to do it.
This has been a hard business from day one, but now more people have reasonable expectations of the joy and savings of scooters.
RBS: Do you think the BP oil leak will lead to sales?
CL: What happens to oil always brings a few folks in. People say, "Screw this, I don't want to be part of this." So yes, I think it will. It makes people sick to their stomachs. Seeing that happen, and then spending $50 on a tank of gas, it makes you ill.
RBS: You had a bookkeeper who stole from you. Have you recovered?
CL: Well, 2009 was not a good year for power sports. A lot of dealerships around the country found that they needed to make some really tough decisions how to spend their money.
The theft issue on our specific case made it so we have those decisions ahead of time. We were watching every number that came through the door so as not to bleed cash flow in any place. A lot of places didn't realize they needed to make adjustments and used up their whole cushioning. In a way, that almost made us more ready to handle challenges by 2009 and the world's worst winter in 2010.
Aaron Kremer is the BizSense editor. Please send news tips to [email protected].