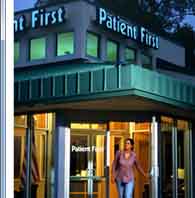 Patient First is having a growth spurt. The chain of primary care medical clinics just opened a location in Aberdeen, Md., and another one in Fredericksburg. Three more are scheduled to open by October in Manassas, Leesburg and Garrisonville.
CEO and founder Dr. Pete Sowers says part of the clinic's success has been a result of slow, steady growth since the first center opened in 1981.
We talked to Sowers about why the group thought now was a good time to expand and his thoughts on health-care reform.
Below is an edited transcript.
Richmond BizSense: You are opening several new locations this year. How do you decide where to go next?
Pete Sowers: We have a modeling program that we depend on. We basically are trying to have a geographic coverage and hit population areas in some smooth way. Patient First generally works well pretty much anywhere, but there are certain things we look at. We draw from all segments of the population, so it really depends on the number of people in an area and if there is enough to support a center.
RBS: Why is it a good time to open new locations?
PS: People are looking for convenient and cost-effective primary care. We fit that bill almost regardless of the current economic conditions.
RBS: Is it also a good time because you can get construction done cheaper?
PS: Honestly, no. Construction doesn't matter. It is certainly better to have lower pricing, but it wouldn't affect our decision to open a new location.
RBS: Patient First started in Richmond; all of the new locations are outside the area. Is there room for more Patient First in the local market?
PS: We do have one other center planned for Colonial Heights that is going to start up here in the fall to open up sometime next year. As Richmond continues to expand, we foresee other places, but right now we are not focused on that area
RBS: Health-care reform: How do you expect the business to be affected?
PS: It's certainly not completely clear at the moment to anybody, exactly how it will unfold. There is already a nationally identified need for more primary care providers, as well as a need to reduce reliance on emergency room visits for cases that can be handled less expensively in another setting. In both of those cases, we do answer those problems, so we just assume however it works out we should not be any worse off for it.
RBS: Do you think you'll need to tweak the business model at all?
PS: We have been doing this a long time, [and there have been] lots of evolved changes. The convenience of being open every day from 8a.m. to 10p.m. on a non-appointment basis has been very attractive to the public, and we do it at a very reasonable rate. The net cost is much less than you do in another setting or combination of settings. If we aren't already there, we are pretty close to the mark.
RBS: Has the company had to deal with rising costs in the industry?
PS: On an insurance adjusted basis, the cost to patients and insurance companies hasn't  changed one bit in 10 years. The rising costs are not from our little sector of the world.

RBS: How big will you be when this current spurt finishes up? Do you plan to keep growing?
PS: We've had spurts before, and this growth period will actually end with about 31 centers all together, not including Colonial Heights. It is not a small number, but we've added locations over quite a number of years.
We've been very cautious over a period of time; it may not seem that way if you look at the raw number. We've been careful not to think too grandly.

Al Harris is a BizSense reporter. Please send news tips to [email protected]