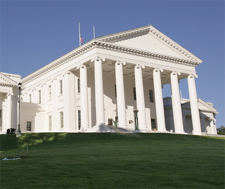 State Sen. John Watkins is the most business-friendly lawmaker in Central Virginia, according to Virginia FREE.
The organization is a nonprofit made up of trade associations, corporations and individual business people that lobbies the General Assembly for business-friendly legislation.
On Wednesday the group released its annual business ratings of the General Assembly based on their votes and positions on particular business issues.
Watkins, a Republican representing Midlothian, received an 89 rating on a scale from 1 to 100. In the past session, he voted for bills favored by the group 92 percent of the time.
Del. Sam Nixon (R-Richmond) also got an 89 rating, and voted for the favored bills 90 percent of the time.
The member with the worst rating from the group was Sen. Donald McEachin (D-Richmond) with a 43 rating, voting for 38 percent of the chosen bills.
You can read the full report with a breakdown of each representative's votes here.
Below is a list of area representatives from highest rating to lowest.
Sen. John Watkins (R-Midlothian)
Rating: 89
Vote percentage: 92
Del. Sam Nixon (R-Richmond)
Rating: 89
Vote percentage: 90
Sen. Walter Stostch (R-Glen Allen)
Rating: 87
Vote percentage: 83
Sen. Ryan McDougle (R- Mechanicsville)
Rating: 85
Vote percentage: 91
Del. John Cox (R-Ashland)
Rating: 84
Vote percentage: 91
Del. Chris Peace (R-Mechanicsville)
Rating: 84
Vote percentage: 91
Sen. Stephen Martin (R-Chesterfield)
Rating: 81
Vote percentage: 91
Del. Bill Janis (R-Glen Allen)
Rating: 81
Vote percentage: 90
John O'Bannon (R-Richmond)
Rating: 78
Vote percentage: 82
Del. Jimmy Massie (R-Richmond)
Rating: 78
Vote percentage: 82
Del. Manoli Loupassi (R-Richmond)
Rating: 74
Vote percentage: 77
Del. Lee Ware (R-Powhatan)
Rating: 68
Vote percentage: 55
Del. Rosalyn Dance (D-Petersburg)
Rating: 65
Vote percentage: 67
Joe Morrissey (D-Highland Springs)
Rating: 59
Vote percentage: 70
Del. Betsy Carr (D-Richmond)
Rating: 56
Vote percentage: 60
Del. Jennifer McClellan (D-Richmond)
Rating: 55
Vote percentage: 47
Sen. Henry Marsh (D-Richmond)
Rating: 54
Vote percentage: 64
Del. Delores McQuinn (D-Richmond)
Rating: 53
Vote percentage: 58
Sen. Donald McEachin (D-Richmond)
Rating: 43
Vote percentage: 38