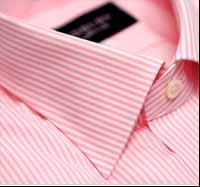 Two young entrepreneurs chose Richmond to launch their high-end menswear label, figuring that customers here and across the Southeast would dig the fit and patterns of their designs.
Paul Trible and Paul Watson were MBA students at Oxford, bound for careers in the financial industry, when the financial world collapsed.
About seven months ago, they returned to the United States and launched Ledbury, designing and selling shirts starting at about $115. The shirts are sewn in various places in Europe from Italian fabrics. The Ledbury shirts have a distinctive second button that is slightly lower.
BizSense caught up with the two Pauls at their Shockoe Slip studio.
Richmond BizSense: Why set up in Richmond when you could set up anywhere?
Paul Watson: We saw the need in the market being in the Southeast. With Paul being from Virginia and me having lived in Northern Virginia before, it seemed like a good place.
Paul Trible: It's a good place, and rents are cheap. We understand the market here. If we went someplace like New York, we would be a drop in the bucket when it comes to shirtmakers there.
RBS: Some people might think starting a company to sell $120 to $150 shirts in the midst of a recession is a little bit crazy. What were you thinking?

PW: When we tell people what we are doing, they look at us like we are absolutely crazy.

PT: The thought process was to create something at a purchase price that would bring up customers who are shopping at Brooks Brothers and bring down customers who are buying Robert Talbott or Canali. What we are finding in this market is that we are not bringing up a lot of the Brooks Brothers people, but we are bringing down a lot of people who used to pay $200 or more for a shirt. They buy one from us and come back and buy five more.
On the other hand, there are some people who will never by a $120 shirt.
RBS: Are you profitable yet?

PT: We are making money now, because we have been very lean. Which is great because we projected a loss for our first year.
PW: It was always going to be close [whether we turned a profit during the first year]. One good month or one bad month could push us over and under. We've been doing well because of repeat business. Thirty percent of customers are shopping again within six months.
RBS: You do not have a retail store, but you do have "pop-up stores" from time to time. How do those work?
PW: It mainly comes down to scalability. Through the pop-up, we can reach our target customers in D.C., New York and Charlotte but without the overhead of a brick-and-mortar store.
PT: Our primary distribution is online, which allow us to run very lean. We are shipping shirts now to the Maldives, Norway and Australia. We didn't want a retail store immediately because we wanted to focus on our online audience. With the pop-up shops – for example, in D.C. we rented out an empty retail store for next to nothing, decked it out with all of our stuff and had a party with 400 people. That creates a lot of buzz. People can try on and buy shirts there, and then they come back later and buy more online.
We are preparing for one in Atlanta in September.
RBS: Do you plan to ever open a retail store?

PW: We would love to at some point. But for right now we are trying to stay lean.

PT: We would look at places in the Southeast like Richmond, Charlotte, Charleston or Atlanta.

RBS: Your office is in Shockoe Slip, which is a popular place to shop and eat and Richmond. Any suggestions on making it better?

PT: The slip has a huge potential. It is one of the few places in the Southeast that has a metropolitan feel. A lot of retail has moved out. All of the wealth in the area drives home at 5 p.m.  I think it would bring more retail and more people if we closed off two blocks to traffic at night. It would be more like Europe.
RBS: What are you working on now?

PT: We have our fall line coming in August. We have some new things like a moleskin hunting shirt. We are also about to start designing our Spring 2011 line.

Al Harris is a BizSense reporter. Please send news tips to [email protected].