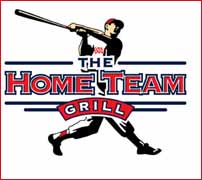 The Home Team Grill is about to play its first away game.
The Richmond-based sports bar and restaurant is opening a new location in Fredericksburg at a development next to the University of Mary Washington campus.
Restaurateur Garland Taylor says he just signed a lease at Eagle Village, a $115 million retail and residential center being developed by the UMW Foundation.
"This will be bigger than our other stores by a bit," said Taylor.
The other Home Team Grill locations are in the Fan on West Main Street in Richmond and at Twin Hickory off of Nuckols Road in Henrico.
Taylor said they closed a 2-year-old location in Powhatan in November.
"We gave it the college try, but the community was not ready to support what is Home Team Grill. So that closed, and while looking for greener pastures we found this opportunity in Fredericksburg," Taylor said.
Taylor said he has hired an architect for the build-out and is bidding plans to contractors.
Taylor said he was enticed to Eagle Village by foundation CEO Jeff Rountree, whom he had met through his service on the alumni board at Virginia Commonwealth University.
The conversations started two years ago. Taylor said he walked away from a deal in February 2009 because he said they couldn't get the terms they needed. But in October, Taylor said Rountree got him to come take a look at the site to see the finished shell.
Taylor said he was so taken with the quality and location that he decided to take the plunge.
"With the university and faculty behind us, the hospital beside us is one of the biggest in the state," said Taylor. "So we bought in a really sweet spot."
Taylor doesn't see Home Team's expansion ending there.
"Running a store an hour away will certainly have its challenges, but I think we are up to it. If we have the kind of success we are looking for, it will give us the opportunity to look at other places."
Potential future markets include Charlottesville and Williamsburg and maybe cities in Tidewater or even the Carolinas.
"Those are areas where there are the right demographics for us, especially with universities there," said Taylor. "The idea all along was to come up with a concept we could replicate and put on the road."
Al Harris covers the restaurant business for BizSense. Please send news tips to [email protected]