A former retail store near Chesterfield Towne Center is going off the grid.
The property, a house built in 1938, is now in the hands of solar salesman Charles Bush and his business partner George Britt. The two men are investing more than $1 million to transform a quirky log cabin on Midlothian Turnpike into the Green Living Education Center of Virginia.
The 1,179-square-foot cabin will have an education center for children, a certified training school for solar installers, a design center showcasing green products, a retail store and an organic garden. It will be run on 25kw of solar-generated electricity and also be fitted with a wind turbine, geothermal heating and cooling, green roofs and a rainwater collection system.  Even the fence surrounding it will be made from compressed fly ash.
Bush, who sells and installs solar energy systems with Energy and Environment Inc., said he had been eying the property since March of last year.  Bush just acquired the property for $635,000, which encompasses more than 18,000 square feet. It was previously Old Dominion Piano, and before that Alpine Outfitters.
"Over that time two contracts fell through, and I knew there had to be a reason," Bush said.
Bush, whose concern for the environment is deeply spiritual, points to a tiny wooden cross perched on top of the backdoor frame.
"What a magnificent planet God gave us to live on. I want to do my part to preserve it," Bush said.
One prong of Bush's mission is making the center a destination for school field trips. The center will have a classroom where kids will learn about solar, wind and hydroelectric energy.
Bush promises it won't be boring. For example, two small rooms will be equipped with three walls of video projection.
"In the room about wind, two big fans will blow when they are done with the video. Turn it on, and you are going to see a lot of smiles," Bush said.
The education center will be supported by the center's training school, which Bush said will attract tradesmen in the Mid-Atlantic seeking to become certified solar installers. Bush said eventually certification will most likely be required of installers to receive state and federal incentives.
"Two years ago, there were 20 companies doing solar in the state. Now there are 120. You are already starting to hear the horror stores where things aren't working because they are not hooked up right," Bush said.
Bush said they he will tear down a storage building on the property and construct a new classroom building, which will be open on a reservation basis for community groups to meet.
Behind the new building will be three roofs (metal, slate and shingle) set up for training purposes.
The center will teach 18 six-day certification classes through out the year at a cost of $3,000. Bush said they will grant weekly scholarships to students at four area technical centers. The certification is through the industry certification board NABCEP, and Bush said it will be the first such program in the state.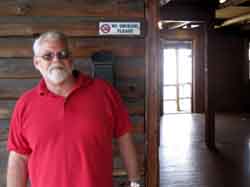 Bush has also set up a company called Solar Trackers, a solar installation crew that will hire from students that completed the program.
The ambitious project is possible because of the contributions of vendors and community partners, Bush said. Many of the improvements on the property will be performed or supplied by companies on a donation or at-cost basis.
Communities groups will also be involved with the operation. The 4-H club will maintain a fruit orchard, and Boy Scouts will have a place to have a compost pile and raise worms. A local church will run a vegetable garden. Food grown on the grounds will be provided to nonprofits, including the Daily Planet and Meals on Wheels.
Bush said he hopes to have the cabin ready by October, with the rest of the grounds to follow soon after. The center will also be free and open to the public and will hold free community classes.
Bush can barely contain his excitement as he reels through his ideas, a big smile showing through his silver beard.
"That's where the playground will be. The equipment is made 100 percent from recycled milk jugs. Its very expensive, but we are looking to approach a local grocery store and see who will sponsor it," Bush said.