This story first ran in July 2008.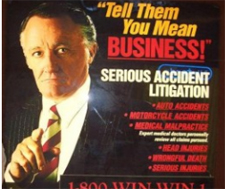 You've seen the commercial.
The video is grainy, filtered only in black and white. Two insurance adjusters are attempting to enjoy a leisurely dinner when their peace is interrupted by an urgent text message. The younger, for some reason balder adjuster, relays the bad news: "It's that law firm again, about the settlement demand." He shows the message on his phone as proof.
The slightly older, more confident gentleman looks up from his food, the wheels turning in his head. "Have we taken care of it?"
The younger co-worker replies despondently, "No," as a painful realization sweeps over the veteran's face.
"Can we get a doggie bag?" he says, presumably before heading back to the office for another long night.
That's when Robert Vaughn comes on the screen, urging consumers to tell those insurance adjusters that "You mean business" and to call the law offices of Marks & Harrison "right now."
The commercial is for Richmond-based law firm Marks & Harrison.
Well, sort of. The commercial is one of several generic ads used by attorneys all over the nation from a marketing company called Market Masters, based in Northampton, Massachusetts. In Indianapolis, it's Keller & Keller. In Wichita, it's Hogan and Kiel. In Boston, it's Mark E. Salamone. And here in Central Virginia, it's the law offices of Marks & Harrison.
The law firm has been running the series of spots for 12 years. John Shea, a partner at Marks & Harrison, said that the firm has seen substantially bigger numbers in terms of clients since the ad was put on TV. Shea helped implement the commercials after being introduced to the campaign by some colleagues in Rhode Island. (Marks & Harrison choose not to discuss specific figures)
"It shows that people can come to us for help and advice, but it delivers it with humor," said Shea.
In addition to Vaughn, Market Masters boasts spokespeople William Shatner and Erik Estrada. Shea said that Marks & Harrison has used William Shatner for some of its spots, but has no plans to use Erik Estrada at this time.
Billed as "The Most Powerful TV Campaigns in the Country," the ads are basically the same throughout the U.S. Market Masters sells campaign packages on a market-by-market basis to law firms all over the country; fees were not disclosed by the company, and vary based on things like spokesperson, market availability, and market size.
The setup for a typical ad is this: A group of rival attorneys sit and discuss their flawless case only to be informed that the defendant is being represented by the villain from Baseketball and Pootie Tang. At the sound of a sharp metallic clang, Vaughan appears on screen to "Tell them you…mean…business" with all the delivery expected of an Emmy award winning actor. The only difference is found in the overdubbed name of the law firm.
So firms buy a generic template ad, complete with choice of popular spokesperson, and then fill in their details like a commercial Mad-Lib. Next thing you know, William Shatner is telling customers to call the law firm of Hanley & Walsch and Erik Estrada is telling injured persons to call the Hurtline.
According to Market Masters' website, clients who use these campaigns will experience too many phone calls to handle. For what its worth, an Atlanta litigator told Legal Affairs magazine that "twenty phone lines light up as soon as it runs," referring to one of the Vaughn commercials. But what is it doing for local firm Marks & Harrison?
Shea said that it's hard to figure out how exactly how much effect the commercial has had on business. The ubiquitous commercials are just part of a large marketing scheme, which includes safety programs with local schools as well as radio and print spots. The actor is also on the back of the phone book.
"We've been around since 1911, so we get a lot of repeat customers," said Shea. These repeat customers tell friends, who tell friends, creating a word-of-mouth marketing chain that is impossible to track.
"It's hard to tell where our business comes from, but the commercials are definitely a big part of it."