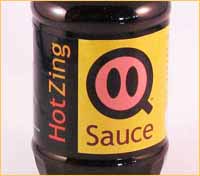 Even though Richmond barbecue restaurant Q Barbeque just opened its second location this year, the owners have their sights on becoming a chain.
When he isn't working on ways to make the business better, Tuffy Stone, who started the restaurant with his wife and couple of other partners, is traveling the country competing in — and sometimes winning — barbecue contests. Stone and his Cool Smoke team came in sixth place out of 76 in the Jack Daniel's World Championship Invitational Barebeque in Lynchburg, Tenn.
We caught up with Stone on the road, headed to one such barbecue showdown to talk about his plans for expansion.
Richmond BizSense: You've owned a successful catering company called A Sharper Palate since 1993. Why get into the restaurant business in the first place?
Tuffy Stone: By 2004, Sharper Palate had gotten fairly large, to the point where I got disconnected with the process of cooking. I felt that I needed to try and pick up a culinary activity that would get me to reconnect with cooking. I came up with this idea to learn how to cook with a wood-burning fire. That is how I found out about competition barbecue.
I entered a contest in the fall of 2004 with my neighbor, my father and my brother-in-law. That started the story of Cool Smoke, our competition team.
During all these miles driven around the country going to contests, I started thinking about barbecue as more of a passion and came up with Q trying to develop a new barbecue establishment concept.
RBS: So less than two years after opening your first restaurant in Midlothian, you opened your second location in Hampton in May. Why expand so quickly?
TS: We knew right from the beginning that we were going to do multiple locations. We didn't know that our second location would be over an hour away.
The opportunity was presented by a developer who wanted us in the Peninsula Town Center. We looked at it hard and made the decision to do it.
RBS: What was it like trying to maintain the same quality and standards of the original location?
TS: The problem with stores and restaurants when they expand is that it becomes a watered-down version of the original. We didn't want to and don't want to be that. I had someone tell me "you are only as good as your last plate of food," and that's the kind of advice I really remember and adhere to.
RBS: How does business compare at the new location with the first few months of the Midlothian location?
TS: When we opened up in Midlothian, it was one of the scariest times you could probably open a business. It was October 2008, and in the month leading up to it, nothing was being discussed in the media other than how bleak or bad the economy was.
When we opened that store, I was acting general manager. We were probably feeding 900 people a week. We are feeding 3,000-plus a week there now. I used to clean the sauce and ketchup bottles hoping someone would come in. Thankfully we got some good press, customers liked it and we got better as we went along.
Hampton was a whole other situation. We opened that up and did 5,000 people our first week. It was a rodeo.
RBS: What's the future of Q? Are you looking at adding other locations soon?
TS: We have ambitious goals. We would love to establish a brand. I want to say national brand, but start with our region first. We don't want to grow in a sloppy way.
We'd like to do something in 2011, maybe focus on something a little close this time. We'll look at Richmond and see if there is enough room. We have a lot of people from the other side of the river say, "We love you guys but wish you were closer."
RBS: What advice would you give to a restaurant owner planning to open another location out of town?
TS: You've got to look at your product and say, "How difficult or easy is this to replicate? Can you remove yourself and go somewhere and have the existing store operate at the same level in your absence as it does when you are there?"
Look at your product and concept. If it is something that is transferable, you've got to ask yourself if you have the time it is going to take to have two stores.
Al Harris is a BizSense reporter. Please send news tips to [email protected]