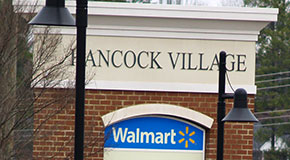 A Chesterfield shopping center is ready to bulk up.
The next phase of Hancock Village, located at Hull Street Road and Winterpock Road, is slated to begin construction in March and will include a Dick's Sporting Goods, 5 Below, Ulta Beauty and Bed Bath & Beyond.
"Those are the only ones I can really say for phase two," said Ellen Long of Taylor Long Properties, which is leasing up the center.
Long said her firm is working to secure leases for five additional sites that will cover approximately 160,000 square feet.
The center, which opened in 2009, is anchored by a Wal-Mart and has two freestanding retail building with eight shop spaces each, which are now fully leased, Long said.
Retail vacancy in the Swift Creek area was at 8.9 percent last quarter, slightly higher than it was a year ago at 7.5 percent, according to reports from Thalhimer.
Along with the new big box stores, Long said construction will start on a third retail building, adding 10,000 square feet of small shop space. Long said it has one tenant signed on already: Crazy Greek restaurant will open a 3,500-square-foot restaurant there.
"We've been able to lease up all the small shops in a market where not too many leases have been signed. We are continuing to sign leases and start on that third shop building, which we believe will be fully leased by the time it is built," Long said.
"For those retailers expanding into the Hull Street corridor, there is nowhere else to go."
Crazy Greek also leased a space previously occupied by Shackleford's Restaurant at Courthouse Place, located near Midlothian Turnpike and Courthouse Road, Long said.
Hancock Village is owned and developed by Midlothian-based EDCO LLC. South Carolina-based Atlantic Realty Investments is development partner.
EDC Construction is the general contractor for the center.