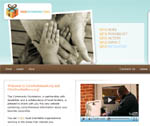 Getting a glimpse at the inner workings of local nonprofits just got easier.
The Community Foundation has launched GiveRichmond.org, an online database that compiles nonprofits' organizational and financial data to give donors a better idea of where their money is going.
And if potential donors like what they see at the charity of their choice, the GiveRichmond users can make direct donations. It's basically a one-stop shop for local nonprofit transparency and donations for Richmond's 2,000 nonprofits.
"The idea was that it would be a central place for anyone who wanted to give to local nonprofits," said Kimberly Russell, TCF's communications officer.
TCF is itself a charity. The new site is supported by GuideStar.org, a Williamsburg-based company that tracks nonprofit data nationwide.
There are about 2,000 nonprofits in the Richmond region, Russell said. Of those, almost 200 were on board when GiveRichmond launched, and it currently has about 220 nonprofits listed in the database. More than 400 are in the process of filling out their profile or are under review.
Conceived during the summer and launched in October, GiveRichmond has a goal of getting 500 nonprofits in the system by the end of the year. "Potential for growth is large," said Russell. The site has had 4,100 hits since it launched.
The service is free to user, as well as nonprofits. The site relies on funding by TCF and 14 partners, including Altria, Bank of America, Capital One, the Cameron Foundation and other local organizations.
The venture has secured a three-year budget of $465,000. "The budget covers the build-out of the site, salary support for one and a half employees dedicated to the effort, annual licensing, office and legal expenses," said Russell.
Nonprofits are profiled on the site through "portraits" and are required to fill out a profile including statement and search criteria, governance, financials, management and general information that opens their inner workings up to the public.
"They're excited about it. It's greater transparency for them," said Michael Jones, the GiveRichmond coordinator.
A minimum portrait consists of 78 fields. Nonprofits can also upload extra information such as news releases, a strategic plan, pictures and video content.
This new system won't replace nonprofits' methods of collecting donations.
"We didn't intend it to replace annual giving mechanisms they had," Jones said.
In addition to donating to their local charity, people can sign up for TCF's recently-piloted giving card program. Users can make a donation,with  a $25 minimum, and receive a giving card that can be given to a friend or client to use toward a nonprofit of their choice.
The cards are still in the pilot phase but so far have been successful. "There's been a lot of positive response to it," Jones said.