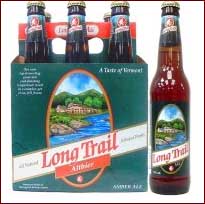 One of my favorite beers has crossed the Mason-Dixon line.
Long Trail, a beer brewed in my home state of Vermont, is now available in Richmond.
I've seen it at a specialty wine store and also on tap at a Fan bar.
Matt Rogers, the assistant general manager at Specialty Beverage, the distributor, said Long Trail is available in hundreds of spots across town and will be coming to Kroger.
"The reception has been really great," Rogers said. "The brand has had a lot of success in the Northeast, and we're excited to have it available down here."
Rogers said Long Trail has solid brand recognition, in part from people who vacation in Vermont.
Magic Hat, another beer from Vermont, is also widely available in Richmond.
Aaron Kremer is the BizSense editor. Please send news tips to Editor (at) richmondbizsense.com.