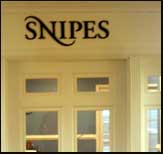 A local real estate firm has found a new home, after being displaced by the wake of foreclosures left by developer Justin French.
Snipes Properties, run by husband-and-wife principals Carter and Annie Snipes, started the new year on the fifth floor of the Daniel Building at 3805 Cutshaw Ave. in Richmond's West End.
The firm moved from its previous location at 6-10 N. Robinson St. in the Fan, where Justin French was landlord. When French defaulted on real estate loans throughout the city, Carter Snipes found himself dealing not with one bank, but two.
"The property we inhabited was three buildings and controlled by two different banks that took different timelines. One foreclosed quickly, and the other has yet to foreclose," Snipes said.
Virginia Commonwealth Bank had the loan on 8-10 Robinson, and People's Bank had 6 Robinson. The latter is the one that foreclosed. Because of the uncertainty over future ownership of the properties, Snipes talked to the banks and got out of his leases.
"Both banks were great, and both worked with us because they understood the calamity that had befallen other tenants that were involved with French," Snipes said.
After just two years on Robinson Street, the need to move presented a chance to get strategic. Snipes considered locations across the city and chose the Daniel Building in part because of its location.
"The Malvern District in general is not dominated by any one agent or firm. No one agent has more than 5 percent market share there. We identified the area as a potential target for when sales turn around," Snipes said.
Another reason for the choice was that it was a sweet deal. Snipes said he was able to lease the 3,200-square-foot office for five years at less than $15 per square foot. Plus, he said, the landlord spent $30,000 building out the space with a new paint job, floors, molding and other improvements.
Snipes said the firm, which has five employees and 10 real estate agents, handles between $15 million and $20 million in sales volume a year. The firm launched in 2005 just selling houses, but it has also developed into a property management company as a result of the slow housing market.
"People couldn't sell their houses, so I would refer them to property management companies," Snipes said.
Then those people would come back to complain about the poor service that the companies provided. So the Snipes figured they might as well get into that side of the business for themselves. Now they have about 300 homes and apartment units under management, which they hope to double in 2011.
Snipes also said he is hoping to make a big push into homeowners association management this year.
And the Snipes plan to use the larger office to start teaching real estate licensing classes.
Annie Snipes recently received her certification to teach the course, which is required by the state for real estate professionals. It also happens that the testing location for state certification exams is in the same building.
She said the firm plans to recruit more agents this year.
"Teaching the classes gives us an opportunity to have a first look at new talent," she said.