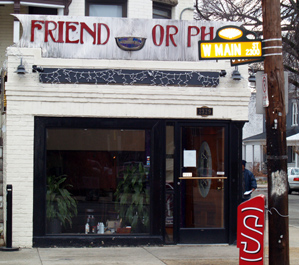 After a brief stint, Friend or Pho is no more. But another operator is ready to step in and take over.
Jake Crocker, co-owner of F.W. Sullivan's Bar and Grille will be opening a restaurant called Lady N'awlins Cajun Café this weekend. The New Orleans-style restaurant will take over the short-lived Friend or Pho location which opened less than a year ago at 2329 W. Main St. Before that the corner restaurant was The White Dog, which had a 10-year run.
Friend or Pho closed down last Saturday after owner Rob Kaplan decided to pursue other opportunities, which gave Crocker the chance to pursue his new venture. Friend or Pho served its take on Vietnamese cuisine, primarily the beef noodle soup for which it was named.
"We had an interest in the location for a while," said Crocker. "It was a great opportunity to extend our umbrella across the street." F.W. Sullivan's is just a few steps away.
The establishment is named for the female embodiment of the soul, spirit and culture of the city of New Orleans and will be an "upscale environment with a fun and festive atmosphere," according to Crocker.
"It's lacking here. There a couple places that offer Cajun food, but no one is doing a full Cajun restaurant and bar," said Crocker.  Longtime Richmonders might remember Gumbo Ya-Ya, which was where Sticky Rice is now.
Lady N'awlins will feature a menu of gumbo, fried oysters, jambalaya and alligator.
Crocker, along with D. Hayden Fisher, Evan Dority, and F.W. Sullivan's executive chef Sean Murphy make up the FWS Group that will be operating the new restaurant.
A soft opening will be held on Saturday, and the restaurant will be fully operating the following week.