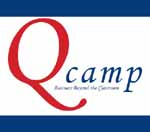 A philanthropic alumnus of a local business school wants to make sure students get plenty of practice at the kind of skills best honed outside the classroom.
Sophomore business majors at the University of Richmond can schmooze with local business folks and maybe make some connections for potential internships and jobs at Q-camp, a two-day program that helps prepare students for the workforce.
Q-camp was created three years ago by Paul Queally, a UR alum and co-president of Welsh, Carson, Anderson and Stowe, a private equity investment firm in New York.
"I saw more and more folks that weren't prepared for interviews," Queally said. "There was a missing polish that wasn't being taught in the home, and no one was really doing a good job of training people how to act."
Q-camp is not the only thing at UR bearing the Queally name.
In November 2007, Queally and his wife, Anne-Marie Flinn, donated $6 million toward the construction of UR's Queally Hall, a 37,000-square-foot addition to the Robins School of Business that is expected to be complete in the spring.
The camp gives students a chance to discover their career interests, practice elevator speeches, and meet alumni and representatives from companies in various field.
Shelley Burns, director of career programs at UR, organizes the camp to connect the students with recent graduates, faculty members and the companies that are involved.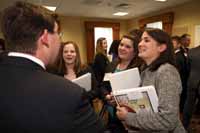 "The goals are to give them the foundation to invest in themselves, connect with people and make decisions about their careers," said Burns.
"Most kids just don't know what they need to do, so we bring them the resources."
The program is funded entirely by Queally, who wouldn't disclose details but equated it to costing as much as a wedding. Students must register online and pay a $50 deposit, which they get back after completing the camp.
The annual camp, which will be at the Westin Hotel in Richmond this weekend, has become so popular that it has to turn students away.
About 30 students took part in the camp in 2008. That number doubled by last year and has ballooned to 140 registrants this year, forcing the program to turn away 60 registrants because the space only has room for 80.
Shelley Burns hopes to expand the camp to 120 to 130 students by next year.
"The long-term goal is to be able to offer Q-camp to every sophomore student," said Burns.
One reason behind the growing popularity is the growing number of businesses that will be on-site.
In the first year, about 20 businesses participated in Q-camp. But word has spread, and 60 companies are participating this year, including Capital One, KPMG, Altria, the Federal Reserve Bank, SunTrust, the Martin Agency, Dominion, Genworth Financial and others.
When Q-camp first became available for students, it was only for junior business students at UR. Recently, the organizers decided the program would be beneficial to students who have just declared their major and are beginning their career search.
This year's program is designed for students with an interest in accounting, consulting, government and economics, finance, marketing and public relations.
Queally noted the camp is something that's needed and is the type of program that a lot of colleges today are lacking when it comes to career resources.
"Education is what is going to make the difference," he said. "If I can make someone's career better because of it, then I'm happy."