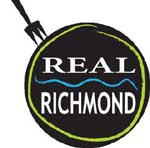 A local travel writer and a magazine editor have paired up to help Richmonders get to know the sights — and tastes — of the area.

Real Richmond is the brainchild of two Richmond natives who wanted to create a business that would support local restaurants and allow people to get to know the history and culture of the city.
They take residents and tourists on a two-and-a-half hour tour stopping at five restaurants along the way to sample the food and hear from the chefs and the owners about the food and what goes on behind the scenes.

The $39 weekend tours cover a mile on foot, with each tour focusing on a different section of downtown.
Participants walk to the restaurants, sample the cuisine and hear about the current and past culture of Richmond.
"We want people to get a real sense of Richmond and introduce them to what the city has to offer," said Maureen Egan, co-founder and author of the recent Insider's Guide to Richmond.
The tours include visits to restaurants, bakeries, butchers and other eateries in the Fan, Carytown, the Museum District, Shockoe Slip, Shockoe Bottom/Church Hill, and Monroe and Jackson Wards.
Egan started the business in October with her colleague and friend Susan Winiecki, editor-in-chief of Richmond Magazine.
Egan has lived in Richmond for 19 years and worked as a columnist for home and garden magazine R Home since 2003.  She's also president of the nonprofit Friends of James River Park.
Winiecki and Egan developed a working relationship that grew into a friendship over the years, and in the summer they began throwing around the idea of a business that would combine their talents.
"My strengths are in history and culture, she [Winiecki] is the food expert," said Egan.
Winiecki has served as chair of Broad Appetit, an annual food festival hosted by the Downtown Neighborhood Association in Richmond since 2008.
Egan and Winiecki did some research and found a novelty that was being offered other places, but not in Richmond.
"Other cities have food tours, and we thought, 'We should be doing that,'" Egan said.
The city dwellers have led six tours and have three lined up for February and four for March.
A tour is limited to 12 spots, which Egan said have been selling out with a mixture of both Richmond residents and visitors.
Momma J's, a Southern food eatery, has been among the stops on Food Tours three times.
"We've gotten a lot of feedback from customers and even some repeats," said Velma Johnson, owner of Momma  J's.
"It's been good for us."

Ben Eubanks, director of restaurants and wine at Lemaire at the Jefferson Hotel, said they've only participated once but have seen it as a good way to draw the crowds.
"This is excellent exposure to Richmond diners," said Eubanks. "The restaurant continues to be busy and grow its customer base, and these Food Tours are an excellent way to reach new diners that might not have otherwise considered Lemaire."
Egan plans to start adding weekday tours and a new tour in the Fan within the next couple of months.
She also plans to have her own office space to help grow her new business.
"We are looking forward down the road to having a presence in Shockoe Slip, booking tours for other organizations."