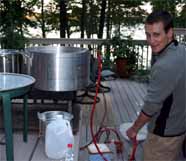 Ten years ago, childhood friends Eric McKay and Patrick Murtaugh came upon a sheep station in Australia. What happened next would alter the course of their lives.
They drank some beer.
But not just any beer — the drink they had was made by a talented home brewer.
"A lot of craft beer enthusiasts talk about their epiphany beer, that was it for us," McKay said.
Now the duo is planning to share that epiphany with Richmonders by a launching a new brewery called Hardywood Park Craft Brewery, named after the sheep station where their love of beer was born.
Their arrival will bring a shot of competition to the Richmond brewery scene. Legend Brewery has been the reigning king for 17 years. Richbrau, a Shockoe Slip brewpub that sold its beer locally in 22-ounce bottles, went belly up last year.
McKay and Murtaugh have raised little over a million dollars from private investors and will begin producing the first batch of beer over the summer. The company leased a 12,000-square-foot warehouse on Ownby Lane and will start installing equipment in June.
McKay said he and his pal have about 10 investors spread across the country. The first investor signed on a year and a half ago.
"From that point on it has definitely been a challenging and exciting road to be on, from not having any backing to being fully funded," McKay said.
Murtaugh said their start-up costs are pretty similar to other microbreweries.
"There is a lot of equipment involved, a lot of real estate space needed, and you need to make sure you are financially prepared because it can take some time before you start bringing in revenue from sales," Murtaugh said.
It also requires expertise.
For the past eight years, McKay has worked for the director of marketing for Massachusetts-based L. Knife & Son, a century-old beer wholesaler. He moved to the Richmond area in 2009 after the company acquired Specialty Beverage Company, a local distributor of craft beers. He said he plans to leave the company in May to focus full time on the new brewery operation, where he will handle sales and marketing.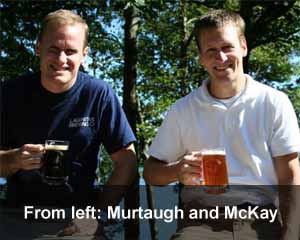 Murtaugh will be the Hardywood Park brewmaster. He spent the past year in Munich and has apprenticed and worked for a number of beer-related companies.  Brewing is also in his blood. Murtaugh's great-great-grandfather was a master brewer who won the world gold medal in 1896 for his Tivoli Ale.
Murtaugh said he is moving to Richmond from New York this week.
Hardywood will start out with one main beer at first, an Abbey-style ale. They also plan to produce several seasonal and limited release beers throughout the year.
They won't be producing six-packs out of the gate. Instead, they plan to make their brew available to retail stores in 25-ounce corked bottles. They will also focus on producing kegs for area restaurants, as well as a few cask-conditioned ales.
"Starting out, our focus is exclusively on the city of Richmond and to keep it as tightly focused as we can. A lot of small brewers expand into new markets rapidly and it takes attention away from the home market," McKay said.
McKay said they hope to push the envelope of what beer is.
"We want to give people a sense of enlightenment and realize beer can be way more than fizzy yellow stuff," McKay said.