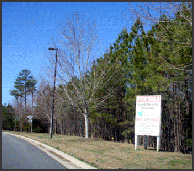 A major employer is planning to expand its presence in Henrico County in a major way.
Bank of America has reached agreement to purchase 65 acres in Eastern Henrico's White Oak Technology Park for $910,000. The company intends to locate a financial services processing center at the Sandston site, which sits across Technology Boulevard from QTS (the former Qimonda semiconductor plant) and just west of a Hewlett Packard facility.
Initially, Bank of America plans to build a two-story, 400,000-square foot building on the site to house about 50 employees. Its master plan calls for another building of the same size and an eventual total of 106 employees on site, working 24 hours a day in three shifts, according to a plan of development (POD) it filed with Henrico County last month. Bank of America officials did not return calls seeking comment by press time and have not yet publicly discussed their plans.
The jobs that locate at the new facility are expected to be new jobs, Henrico Economic Development Authority Executive Director Gary McLaren said, adding that Bank of America likely would announce more detailed plans about the facility in the coming weeks.
The development would be another boost for the county and the White Oak park, which saw Qimonda, its chief tenant, vacate its 1.3-million square-foot semiconductor plant in 2009 as the result of a difficult economy – costing about 2,500 employees their jobs. But last year, the U.S. Postal Service moved its Richmond Processing and Distribution Center to a new 715,000-square-foot facility in the park, bringing jobs with it from Richmond.
And last April, QTS purchased the former Qimonda plant – which was assessed in 2008 at $155.5 million – for $12 million. QTS is turning the facility into one of the world's largest data centers. It recently won its first federal job for the site, McLaren said, and the company has partially occupied the facility for several months.
"The data centers aren't huge employers, just significant capital investments," McLaren said.
Greater Richmond Partnership Chairman Greg Wingfield said the news of Bank of America's plans represented another step in White Oak's post-Qimonda future.
"It starts to reinvent itself, rebrand itself," Wingfield said of the park, "particularly for companies looking for alternative, secondary sites. For us, any kind of huge job creation through a new facility obviously is a very positive step for the region. As we watch the unemployment rate continue to go down, this will help."
Henrico County and its Economic Development Authority purchased the 2,272 acres that comprise the White Oak Technology Park from the state in 1996. The site, formerly known as the Elko Tract, previously was the site of a decoy "airport" built to confuse potential German bombers who might have planned to attack the Richmond Army Air Base at the Richmond airport three miles away.
As part of the 1996 agreement, the state must consent to the sale of portions of the property within the park (including the Bank of America site) before a sale is finalized. The state, not the county, receives payment for any land sold. Henrico, however, realizes the benefit of new tax revenues from new tenants, McLaren said.
The property sale was approved by a 9-0 vote of the Henrico EDA's board of directors at its Jan. 13 meeting. Final state approval is forthcoming.
The arrival of Bank of America to Eastern Henrico is encouraging, Porter Realty Executive Vice President Cliff Porter said.
"It's a good sign for the region," he said. "That's a nice park, and you've got all that infrastructure, so that's probably what they were looking for."
Porter theorized that the relatively low sale price – $14,000 per acre – may have provided extra incentive for Bank of America to buy in White Oak. The price also may have reflected that certain portions of the land were undevelopable, he said.
"I could find you more expensive land," Porter said.
Porter's own company recently finalized a lease with MeadWestvaco, which this spring is moving one of its facilities from Charlotte to 48,000 square feet of space at the Airport Distribution Center at Darbytown Road and Laburnum Avenue. Though large-scale tenants in Eastern Henrico and the airport region traditionally have occupied industrial and warehouse space, the Bank of America facility could signal the value of the region for more traditional office developments, Porter said.
Bank of America's POD request is scheduled to be heard by the county's Planning Commission at its March 23 meeting. In a report, county planners wrote that they would recommend approval of the POD once several minor site plan issues are resolved.
Bank of America has a significant presence in northern Henrico; its operations center on Villa Park Drive is believed to employ more than 600 people. In 2009, the company announced that it would begin a $150-million expansion on that property and create more than 100 new jobs there.
In all, the company employs nearly 3,000 people in the Richmond region.
This article first ran in the Henrico Citizen, which is a Richmond BizSense news partner.