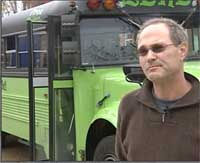 The owner of the popular To the Bottom and Back (2BNB) bus service in Richmond is considering expanding his service into Short Pump.
Jim Porter told the Citizen that he's had preliminary discussions with a local business that may consider partial sponsorship of such service, which could operate only in that region or possibly shuttle riders to and from downtown Richmond.
Porter, 43, began the service in late summer 2009 as a way to serve mostly younger riders who wanted to travel to and from restaurants and bars in the Fan and Shockoe Bottom. A primary goal was to prevent drunk driving among bar-goers.
He now runs routes there three evenings a week, Thursdays through Saturdays, and recently began a new Saturday daytime tourism route to serve the museum district. 2BNB buses shuttle as many as 5,000 people each week to and from destinations, Porter said.
Porter is interested in receiving feedback from residents of the Far West End and area businesses that might be interested in supporting a new venture there.
He envisions a circular route that might make stops at several Short Pump apartment complexes, take riders to the Short Pump Town Center, the Regal Short Pump 14 movie theaters and other local restaurants and shopping destinations, then return them home.
If residents expressed an interest in taking shuttles downtown and back, Porter says he'd be open to that possibility, too.
"If there's something they wanted [in Short Pump]," he said, "we could do it."
The operation's routes in Richmond, Porter says, have resulted in more cooperation between local businesses and financial benefits to many of them. Restaurants along his Cary Street and Main Street routes, he said, have seen a 200 percent jump in their receipts since the routes began.
The 2BNB bus service is a 501(c)3 nonprofit organization. And because it's free to riders, it isn't subject to any regulation by government entities beyond that required of other drivers. That has allowed him the freedom to operate through donations and the support of local businesses and the flexibility to serve a variety of customers and create new routes quickly.
In addition to his standard routes, Porter and his team have shuttled high school students from Richmond and Chesterfield to volunteer engagements; taken VCU students and their parents on tours of the city; taken UR and VCU students to and from fraternity and sorority socials; and even taken regular passengers to family functions. He carries $5 million insurance policies on his buses.
Porter's operation is not without its critics – primarily taxi drivers and others who charge a fee for their services. Those groups initially complained that Porter was stealing business from them, but he says that many now see value to the service he provides.
2BNB operates four school buses that Porter purchased from local school divisions for $2,500 to $3,000 each. Riders can check bus schedules at www.2bnb.org and also view real-time status locations of each bus, thanks to a tracking system that each one uses.
If his Short Pump plans take shape, he envisions purchasing airport-style shuttle buses that seat about 20 people each.
Porter's drivers are Chesterfield County school bus drivers, who have already passed necessary drug tests and obtained necessary licenses. Each bus also has a host, who helps riders find their destinations and helps manage riders so that the drivers aren't overwhelmed on busy trips.
Anyone with thoughts about the 2BNB buses serving Short Pump should contact Porter through the organization's website, www.2bnb.org.
This article first ran in the Henrico Citizen, which is a Richmond BizSense news partner.