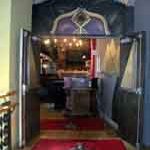 Off the Hookah owner Hani Atallah had no idea what the response would be when he brought his Florida-based business to Richmond.
The cavernous Shockoe Slip restaurant/night spot opened in December with a Mediterranean-influenced restaurant and an Egyptian-themed dance floor.
Atallah, 41, got into the business with his family five years ago when they opened their first location in Fort Lauderdale.  After seeing the success of the second Off the Hookah in West Palm Beach, Atallah wanted to expand further.
BizSense recently caught up with the man behind the newest club in Richmond to learn about his strategy and plans.
Richmond BizSense: How did you get into the business?
Hani Atallah: My whole family runs the two locations in Florida, and they talked me into doing it. I've lived in Richmond for 30 years and in the '90s I had a bar called the Metro, but four years ago I decided to get out of it. This [the Richmond location] had been in the works for about a year.
RBS: What made you want to bring the business here?
HA: We were very hesitant at first. Richmond is a finicky market, but it worked so well in Florida.  Now we have a line down the street every weekend. What makes it special is the decor and atmosphere. People here want a place to go where they can dress up, and we're giving them a place for that. We bring a lot more people out that normally wouldn't come out.
RBS: What has business been like?
HA: We're sold out every Friday and Saturday for dinner.  Friday we do about 1,000 to 1,500 people, and Saturdays it's anywhere from 1,000 to 1,800 people.  We have a dinner crowd, an early crowd, then a late crowd, which is mainly the college and younger crowd.
RBS: What do you think draws so many people in?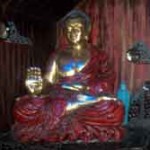 HA: We offer three things that go well together, and that's the drinks, the hookah and the food. Also the entertainment shows we're putting on. We have two to four flair bartenders each night, and they juggle three or four bottles while they're making your drink. People like taking their pictures. We have two to four go-go dancers and belly dancers as well. People love it; it gives them something to do. You've got to have something for the men.  It's huge with the older crowd. Belly dancers come by their table and perform. It makes them feel like they're somewhere else.
RBS: The restaurant has a different theme than the nightclub. What was the thought process behind that?
HA: All of the locations have different themes. The bottom floor is for dining and has an Asian theme. We have a large Buddha statue that people like to take pictures with.  We have a sushi bar.  Our chef does an excellent job of providing something special. It's a combination of my mother's own recipes and a touch of his specialties.
RBS: Having two themes with such extravagant decor upstairs and downstairs couldn't have been cheap. What have you invested in the place?
HA: It's close to $2 million, but it's worth it.
RBS: Did you expect it be a hit in Richmond from the start?
HA: I didn't know it would be as popular [as it is]. I thought it would be a gradual thing, but we've been slammed since the day we opened.
RBS: How are the other two locations doing?
HA: We opened the Fort Lauderdale five years ago and then after that we opened the West Palm Beach location about two years ago. They bring in anywhere from 2,500 to 4,000 people a night and do about $5 million to $6 million each year.
RBS: What has the response to the hookah been?
HA: Once people try it, they seem to really like it. Blue Mist is our most popular — it's kind of like a blueberry flavor. We've even had grandmas in here doing it.
RBS: What are your plans for the Richmond location?
HA: This weekend, we're opening up the patio for outside dining and live music. We're going to start adding more live music to this location and bring in some DJs from out of town.  In the next few weeks, we should have an outside bar, too.
RBS: Do you plan on adding any other locations?
HA: A Miami location is in the works now. We're considering D.C., and there's a huge demand in Norfolk as well. We've been approached by some investors, but we're going to keep it as a family-run business. We're happy with what we've got.