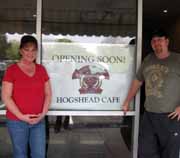 A Powhatan couple are going to try their luck in the restaurant business.
Kim and Steve Logue split with their old jobs and plan to open HogsHead Cafe in Glen Allen on May 1.
The cafe will be a sit down and takeout lunch and dinner spot serving barbecue, hot dogs, burgers and seafood.
"We want it to be a friendly, family-style meal," said Kim Logue, 39.
Steve, a 44-year-old Canada native, moved to Richmond in 1991 and has worked in his family's marine engineering business since 1996.
While it's the first startup for Steve, it's the second for Kim. She managed About Attitude, an online women's accessories store, for five years before shutting it down.
For the past two years, Kim has worked at Brio Tuscan Grille at Stony Point Fashion Park.
"I already had the taste of being a small business owner," she said.
The couple has been smoking their own barbecue for the past year.
"We started taking stuff to family reunions and getting good reviews," Kim said.
The couple toyed with the idea of starting their restaurant for about two years before deciding to pursue it in June.
The business leased 1100 square feet at 9503 West Broad St. The space formerly housed a restaurant called Cuisines.
Although the name HogsHead might suggest just barbeque, Steve there's more to it.
"We're not going to compete with a Buzz or Ned's," he said. "We're going to do a little bit of everything."
Kim said the menu will be classic comfort food with a mix of classic American dishes and her own recipes.
The pair said they are going to source ingredients from local bakeries, butchers and farmers.
"We want to focus on repeat business, people that are able to come in two to three times a week," said Kim.
"Where everybody knows everybody," Steve added.
They're planning to add a catering service and eventually a food truck to serve corporate lunches and local events.