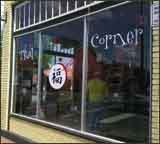 After more than a decade running street carts downtown, restaurateur Michael Ng is headed indoors with a new dine-in Thai restaurant in Jackson Ward.
Ng owns three food carts: Thai Cabin in the financial district and at MCV and Noodle Station at MCV.
His new restaurant is going in at Marshall and Second streets in the big yellow building that he co-owns. The Thai Cabin kitchen that supplies the carts is located there and will double as the kitchen for his new spot, Thai Corner.
"People are always knocking to see if we are open," Ng said of the commissary building. "Why not take advantage of the empty space?"
Ng, 39, isn't new to the dine-in restaurant business, having grown up in a family that ran Chinese restaurants in North Carolina. Ng came to Richmond to open the Sino-American Cafes on Midlothian and West Broad, both of which he sold after a few years. He then ran several Japanese food court restaurants and was in nearly all of the area malls.
It was when a few of those food court leases were coming due that a friend suggested he go into the food cart business.
Ng said there were just a handful of food cart vendors operating downtown when he opened Thai Cabin in 2000.
"It was the hardest business I ever ran for six months," Ng said. "I don't know if I was being cocky or a know-it-all, but it was harder than I thought."
Competition in the local street cart game has heated up. Ng said he said there is now more than 40 carts downtown. There are 133 registered street food vendors in all of Richmond, some of which operate multiple carts.
His staff of eight runs the three carts, and Ng said he floats among the carts and the commissary. He plans to hire one or two more employees to help run the restaurant.
He plans to open Thai Corner for lunch in the next few weeks and might offer dinner on weekends. The restaurant will seat close to 50 people.