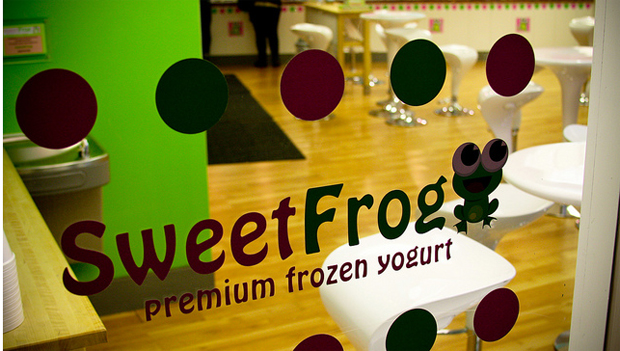 In about two years, Derek Cha and his wife, Mi Jung Kim, have grown their local frozen yogurt operation from one location to 10 — with just as many new outlets planned for the next year.
In 2009, the couple opened Sweet Frog, their first self-service frozen yogurt shop, in Short Pump. They have expanded to Chesterfield, Richmond, Charlottesville, Lynchburg and Williamsburg. Over the next year, Cha says, they plan to develop another 10 locations, pushing into Northern Virginia, Virginia Beach and North Carolina.
Customers fill a bowl with any number of frozen yogurt flavors and add as many toppings as they like. The cost is 39 cents an ounce.
BizSense caught up with Cha at the company's corporate store in Carytown to talk about how he grew so quickly and his plans to expand the business.
Richmond BizSense: Where did the idea come from?
Derek Cha: My wife and I started this company. We are both Christians and were praying for another venture. We were doing another business but because of the economic slowdown we were looking for a new business. There are similar types of [frozen yogurt] businesses in California and New York, so I decided to get into this industry.
RBS: What was the other business?
DC: It was a picture framing business in Short Pump.
RBS: How have you been able to expand Sweet Frog so quickly?
DC: The Carytown location is our corporate location. The rest of them are owned by others, and we license the concept and name. The license fee is 4 percent of sales. We develop the locations and sell them. We are working to become a franchise.
RBS: Did you plan on growing so quickly?
DC: We knew that once a lot of people knew about us and saw our concept and tasted the yogurt we were going to open up stores, but not this fast. We are growing faster than we could have dreamed of.
We operated the first one a full year and during this time received several inquires wanting us to do another location. On July 7, we opened our second location in Chesterfield on Hull Street, and that one took off stronger than the first one. A whole lot of inquiries came through that took us to our third and fourth stores.
RBS: Why do you think your brand has become popular?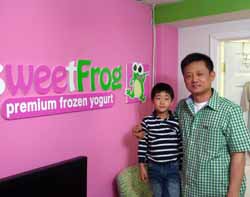 DC: We named it Sweet Frog, using frog as an acronym for Fully Rely on God. Ever since then, through God's blessing, we have been very successful. The Sweet Frog name is very memorable and catchy, and the logo is a big hit with kids. It is easy for kids to say by name that they want to go to Sweet Frog. The pink and lime green colors make people really happy.
RBS: The frozen yogurt shop is a hot trend in the food world. Is it competitive?
DC: Very. It is a hot trend and one of the fastest growing concepts. We feel we have the edge — our quality of yogurt is fantastic. Before launching, I started tasting all the different yogurts available and wanted to make sure I use certain ingredients to make ours premium.
RBS: You launched in 2009. Did you feel it was a risky time to start a retail business?
DC: I do feel like retail is at a tough point economically, but even in this hard time people are willing to pay $2 to $4 for a fantastic dessert.