Chuck Clement was enjoying the ocean breeze in Duck, N.C., when an employee called. His office was in flames.
On Sunday, March 20, at 2:30 p.m., a fire broke out on the second floor of the Daniel Building, a 1960s-era office building at 3805 Cutshaw Ave.
The fire started inside the office of Clement's company, PayTime Inc., which has 10 employees.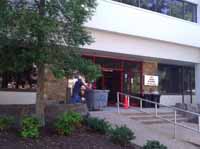 After hearing the news, Clement high-tailed it back to Richmond.
"We are a payroll business that does millions of dollars of payrolls. Employees need to get their checks. We need to operate," Clement said.
Although a fire can be catastrophic for a business, many of the companies that used to work out of the Daniel Building have continued to operate. The reason: They had their files saved in the "cloud." That is, uploaded online and saved at an offsite location.
Despite being locked out of its office and having their computers destroyed, PayTime was open for business by 10 a.m. Monday.
"Everything was backed up on the cloud, so we can do production anywhere in the world," Clement said. "That morning, people did [their work] in their pajamas."
The fire displaced all of the tenants in the building. The owners of the building have begun renovations and are still assessing the damage. Tenants were allowed to retrieve some items two weeks after the fire, but almost everything was ruined by smoke.
The fire did not spread, but every floor of the building was damaged by smoke. Clement said that the fire burned through asbestos, posing another hazard.
The Richmond Fire Department is investigating the cause and has not ruled out arson.
The 66,500-square-foot building was built in 1964 and was most recently appraised by the city at $2.7 million.
Clement said that the fire involved an electrical outlet but that an exact cause hasn't been determined.
"From what I understand, they are looking at all possible causes. There are rarely people in the building Sunday afternoons," Clement said.
Clement said he had disaster recovery support from Peak10, a Charlotte-based IT company with an office in Richmond that provided temporary office space. Clement said he is looking for permanent space.
Clement put his total losses from the fire at about $200,000, which includes furniture, computers and moving costs. Clement said he is insured for most of the damages.
Another tenant also said that having data stored online helped them continue to do business despite being shut out from their office.
"All of our systems are on the cloud, and we were able to roll in 24 hours. We didn't have any downtime," said Carter Snipes, whose firm, Snipes Properties, had just moved into a fifth floor suite.
Snipes said he was out driving when his mother called to tell him his office building was on fire.
The firm had moved in two months prior. And that move was the result of a disaster of another sort: Banks had foreclosed on Snipes's landlord, Justin French.
Snipes said he bought new computers and set up shop in a temporary office in Innsbrook. He said he has a new spot in the works but is waiting until the termination of his lease at the Daniel Building is finalized.
The cloud also saved The Bookkeeping Department LLC, a payroll and bookkeeping company.
"We are fortunate we employed cloud computing. We never missed a step," said Harry Garmon, CEO and owner of the company.
Garmon said he was at home recuperating from a fractured pelvis when he got the call.
"The word I get is that the building won't be ready until sometime next year, and my lease is up in December, so I've got to find someplace else to put my company," Garmon said. "The good news is it's not a bad time to be out looking for space. People have some pretty good deals."
A couple of nonprofits called the Daniel Building home, including the Richmond chapter of the Juvenile Diabetes Research Foundation, which has four staff members.
Shea Awad, developer of special events for the foundation, said they have moved to donated space on Staples Mill Road.
"The fire was the day after one of our two big fundraisers," Awad said. "None of us were in there, but we lost some things that are very important to us."
Awad said that soot damaged furniture and event materials.
BizSense was only able to reach one of the building owners, and he didn't offer many details.
Michael Scelzi, said that his business, Net Metering Inc., has been operating out of a trailer in the parking lot while he deals with the aftermath of the fire.
BizSense was unable to reach Scelzi for further comment on his plans for the building. A crew was busy working inside the building Thursday afternoon, and a permit for smoke damage repair and demolition was posted in the window.
Many of the tenants said that they've heard the owners hope to renovate the building.
Correction: A previous version of the story mistakenly reported that Harry Garmon, of The Bookkeeping Department, LLC was on the road when he got a call about the fire. He was actually at home recuperating from an injury.