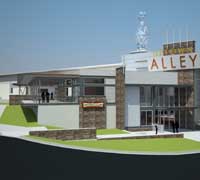 A convenience store magnate is set to start construction on a massive entertainment complex in Chesterfield County.
On Tuesday, Steven Uphoff, founder of Uppy's Convenience stores and Southside Oil, will unveil his plans for Uptown Alley.
He said the 56,000-square-foot entertainment complex would feature 40 bowling lanes, two restaurants, four private rooms for corporate functions, arcade games and 80 flat-screen televisions.
The plan for the facility has been in the works for four years. Uphoff bought the property at the intersection of Commonwealth Center Parkway and Brad McNeer Parkway off Hull Street Road in January 2008.
"It's taken a while to go through the concept development process and the architectural design process," he said.
Uphoff said the first floor would be more family-oriented, with rooms for children's birthday parties. There will also be a sports bar called Stevo's Pub.
"We wanted people to feel like they could bring their children," Uphoff said.
Upstairs will be a more modern adult area with Uphoff Rotunda, a bar that will seat 100 people.
A 29-foot stainless steel bowling pin on top of the building might help attract customers.
Uphoff said that the building can hold about 1,700 people and that he expects to see 800 to 900 each day at one time.
The first phase is costing $19.6 million and is going to take about a year to develop. Uphoff said he hopes to have it open next June.
Construction on the complex will begin Tuesday at the groundbreaking ceremony.
The second phase planned for the $40 million, 14.5-acre project might include a hotel and day spa.
"We're talking to hotel brands," Uphoff said.
Uphoff said he expects the complex will draw between 250,000 and 300,000 people a year, including athletes who will be using SportsQuest.
"I believe it will be a huge entertainment facility for athletes and their families," he said.
Taylor & Parish is the contractor on Uptown Alley, and Trifecta Management Group will handle the day-to-day operations when it opens.