One of the last tobacco factories in Shockoe Bottom is finally getting the conversion treatment.
Three weeks ago, developer Charles Macfarlane and his business partner Sam McDonald bought two historic buildings at 2301 and 2323 E. Main St. that were originally built for the P. Lorrilard Tobacco Company.
Macfarlane said that, after two and half years of waiting, he purchased the buildings from Forest City Enterprises for $2 million. He and his partner plan to convert the building into creative office space and are close to securing enough commitments to kick off the $6 million renovation.
Each three-story building has about 30,000 square feet. The older of the two, built in 1908, also has an additional lower level that once was where P. Lorrilard stored its cigar flavorings.
"We are very close to finalizing a lease for 10,000 square feet," Macfarlane said. "It is a marketing-related firm that is locating here from outside the city."
Macfarlane said he is also talking to another tenant interested in 14,000 square feet.
"With that second tenant, it would kick things off. The lender would like to see it preleased 50 percent," MacFarlane said.
Although those tenants wouldn't quite meet that threshold, Macfarlane said they would put some additional equity into the construction loan to get things moving.
"The office market is definitely challenged," Macfarlane said. "But we believe in the long term this is a good investment, and we've indicated that by paying cash for this property."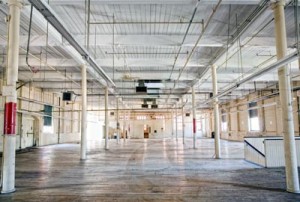 Forest City, the seller, owns several former warehouses that it converted into the River Lofts at Tobacco Row, including another portion of the Lorillard plant that makes up part of the block. This particular deal included a deed restriction that the buyers couldn't convert the property to apartments or condos for 15 years, so as not to compete.
"I think [the property] lends itself more appropriately to office," Macfarlane said, "although in this market residential would be easier to finance."
The complex was once billed by P. Lorrilard as the largest cigar plant in the world and at one point had as many as 3,800 workers.  By the mid-20th century, Lorillard was gone and the buildings were being used as a hat factory.
Macfarlane previously attempted to finance the office project using a federal stimulus program that would have allowed them to sell tax-free bonds, but they were unable to find enough interest before the deadline.
Macfarlane and McDonald last worked together to develop the Lucky Strike Power Plant, which they completed in 2009. Odell Architects is the primary tenant. Odell has done some of the preliminary design work for the current project, Macfarlane said.
The duo also worked on residential conversion projects in Manchester and Jackson Ward, including EcoFlats and Emerick Flats.
The deal with Forest City included a parking lot next to the buildings with 28 spaces and another lot on the next block more than with 128 spaces. Macfarlane said a potential use for the larger lot includes a hotel with structured parking on the lower level. He said he is also presenting design proposals for a new standalone building to an interested office user in the market.