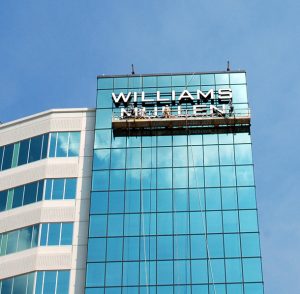 Capital One is opening a commercial banking branch inside Richmond's newest office tower.
The bank will occupy 14,000 square feet of space in the 15-story Williams Mullen Center and will move in early 2012.
The new branch is headed by Van Knick, a local banker with 15 years experience, and is staffed by a team of 15. The new space has room to add 30 more employees. The newly established branch is operating out of Capital One offices in Innsbrook until the space downtown is ready.
Capital One Commercial Bank serves clients with revenue in excess of $10 million.
With the arrival of the branch, William Mullen's Center's 200,000 square feet of office space is now fully leased.
"We think this is a testament to the location and stature of the building in downtown Richmond," said Tony Nero, president of development for Armada Hoffler, the building developer and owner.
"We are pleased to be 100 percent leased in what is otherwise a tough time in the real estate industry," Nero said.
Virginia Beach-based Armada Hoffler completed construction on the $62 million building at 10th and Canal in mid-2010.
Law firm Williams Mullen occupies 147,000 square feet. Additional firms in the building include accounting firm Cherry Bekaert & Holland and investment firm Agincourt Capital Management.
A French cafe, La Parisienne, occupies 2,350 square feet of retail space on the ground floor, where there is a similarly sized retail space still available.