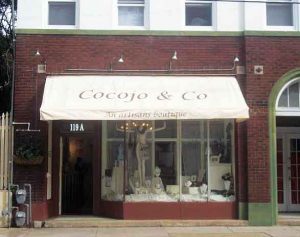 A scrappy Richmonder has upgraded her home-based business to a Fan storefront selling artisan crafts.
Two weeks ago, Jo McClain opened Cocojo & Co., a shop that sells jewelry and other accessories made by Richmond artisans.
McClain, 38, runs the business alone but has a silent partner in husband Sean, who owns the bar Banditos.
McClain mans eight booths in her shop, selling products for about 10 local artisans. The store sells everything from paintings to candles to clothes, ranging from $10 to $300.
The artisans get 65 percent of what they sell and McClain takes the rest along with a monthly fee to rent a station.
Most of the artisans McClain has scooped up are from local farmers markets and festivals. McClain said she wanted to get into the business to help out other locals struggling to sell their products.
"The market is closed to a lot of artisans here," McClain said. "Boutiques are very selective."
"I've been on the other side of the coin and know how difficult it is," she said.
For the past three years, McClain has worked out of her Westover Hills home making and selling jewelry online and to high-end local retailers such as the Alchemist, Fabrik, GlassBoat and Heidi Story.
McClain said the business was profitable but that most of the boutiques were taking half of her sales, forcing her to jack up her prices.
"I would have to price a pair of earrings in the mid-$60 to $70 range, and that was not in my business plan," she said. "I wanted people from all walks of life to be able to afford this."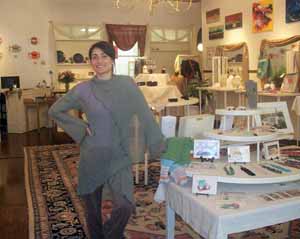 She stills sells her jewelry to GlassBoat and Heidi Story on consignment and in her new store.
A brick-and-mortar store has been in the works for the past year, but McClain said she didn't get the urge to move forward until she saw a for rent sign in June in a former hair salon on North Robinson Street.
"I originally wanted a Fan-based store," she said. "I got tired of driving by and seeing it here, so finally I just called about it."
She leased the 1,400-square-foot space two months later and invested about $10,000.
Cocojo & Co. is one of two non-restaurant retailers on Robinson. The other is Halcyon-Vintage Clothing.