A local advertising agency is busting through the wall of its current digs to make room for more workers.
Tobacco Row ad firm Big River is planning to take over 4,500 square feet next door to its East Cary Street office, nearly doubling the size of its operations.
The firm has operated in the Edgeworth Building since 2008 and works among accounting firm Ernst & Young, law firm Hirschler Fleischer and HKS architecture firm.
Fred Moore, a co-founder and president of Big River, said the agency needs more room for employees and to expand the company's digital operations.
"It's more clients and digital opportunities driving our growth," Moore said.
"A lot of growth comes from our existing clients that continue to give us more business."
Most of Big River's clients are in the wellness, hospitality, entertainment and financial sectors. Some of its biggest clients are Anthem Blue Cross Blue Shield, Cortview Capital, Virginia Lottery and Donate Life America.
Recently, the firm snagged three new clients, Williamsburg Winery, Cudas Footwear and Classified Moto, bringing its regular client base to twelve.
Moore and Jan Crable started Big River in 2001.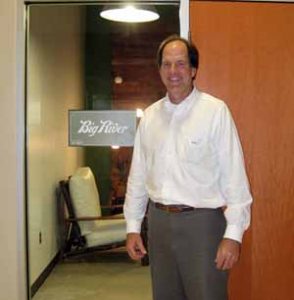 Moore said that since moving into the East Cary space two years ago, business has quadrupled.
Once the firm gets into its upgraded digs, Moore said he plans to start pitching to companies in the travel and retail industries.
And Big River is also benefiting from a rebound in advertising spending. Moore said he's starting to see the local advertising industry prosper again after taking a hit when the economy tanked.
"Richmond is bouncing back really strong," he said.
The firm doesn't have an exact cost for the renovations and is working to nail down a contractor but expects to be in the expanded space by March.