A local youth nonprofit has settled into its new digs, and it's planning to stay put.
Junior Achievement of Central Virginia moved this month into its permanent location on West Broad Street to run its Finance Park, the organization's financial literacy program for kids.
At the Finance Park, middle and high school students learn about personal financial management and entrepreneurship through hands-on programs.
Up until now, Junior Achievement, which is a national program, was able to operate only in temporary spaces across Richmond.
Daphne Swanson, president of Junior Achievement of Central Virginia, said the organization would be able to increase the number of students it serves with this permanent space.
"The set-up is perfect for what we needed," Swanson said. "We can now serve more students throughout the Richmond, Henrico, Chesterfield and Hanover areas."
The program was launched in 2006 and last year operated in a space in Spring Rock Green in Richmond.
Since its launch, the Finance Park has been funded by Capital One, but in December the financial giant donated the park to Junior Achievement.
Last year, Swanson said, the group hosted 120 students per day and had 1,700 students go through the Finance Park. Swanson said this year they're expecting to have about 2,500.
"Before, we were limited and had to turn people away," she said. "Now we have the ability to service them, and we're hoping to get more students in the county of Chesterfield."
Swanson said that local schools are already calling for visits to the Finance Park and that it's booked from November until the first part of January.
The nonprofit started looking for a permanent space in March, and, with the help of Commonwealth Commercial, Swanson was able to find the West Broad space.
"We got a good deal to get the park up and running," she said.
Junior Achievement leased the 9,600-square-foot space at 7217 W. Broad St. in August and was renovating the space up until its move-in last weekend.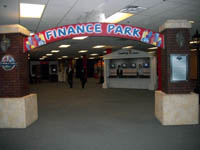 In addition to local schools, Junior Achievement also has local nonprofits interested in touring the park, such as the Boys and Girls Club and United Methodist Family Services.
To help represent various industries in the park, Junior Achievement is seeking out local businesses.
Swanson said that Capital One, Dominion Electric and Car Max are on board and that talks are underway with State Farm and AMF Bowling to represent the insurance and entertainment industries in the park.
Besides the Finance Park, the space houses Junior Achievement's offices, which used to be headquartered on Cox Road.