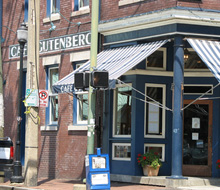 A shuttered Shockoe Bottom restaurant is coming back to life.
John Van Peppen and his wife, Linda, plan to open Arcadia, a steak and seafood restaurant in the former Café Gutenberg location on East Main Street.
Van Peppen, 49, who used to help run the Stony Point steakhouse Flemings, bought the property in August.
Café Gutenberg opened in 2003 but changed hands a few times before closing this summer.
A few people formerly involved with the restaurant have been working to launch Rooster Cart, a vegan food cart. 
Worn down by years in the corporate restaurant world, Van Peppen wanted to test his mettle as the head honcho.
"My last year at Flemings, I was looking for an opportunity to open my own restaurant," he said.
He managed Flemings for the past seven years and before that worked as the director of restaurant and catering for the Virginia Museum of Fine Arts for seven years.
In April, Van Peppen left Flemings and went on the hunt for a place for Arcadia, a name taken from Greek mythology.
"I knew if I could open a restaurant, I'd name it Arcadia," he said.
The restaurateur checked out a few spots in the Fan and the former Copper Grill location in Short Pump, which closed in August. The he caught wind that the cafe had gone up for sale.
Van Peppen said Arcadia will serve lunch, dinner and Sunday brunch.
Van Peppen said he's looking to source most of the restaurant's ingredients locally.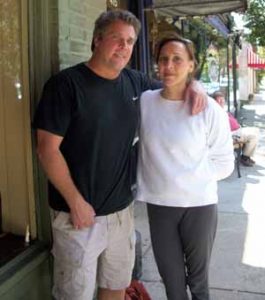 "We want to utilize the farmers markets as much as we can," he said.
To go along with the fine dining, Arcadia will carry a large selection of local wines and a few local beers.
"Wine is my background, so we'll incorporate that," Van Peppen said.
Before getting into the restaurant industry, he owned a wine shop in Brandermill.
To serve a high-end menu, Van Peppen is bringing in a local chef whose identity he's keeping quiet for now.
"He's a well known executive chef who's worked at a number of top tier Richmond restaurants," he hinted.
Van Peppen said he's not going to change too much about the two-story restaurant.
"It's a historical building, so we're keeping most of it intact," he said. "We'll have floor-to-ceiling windows [upstairs] that look over the farmers market and Main Street Station."
He plans to bring on a staff of 20 to help run the restaurant including his wife, who has worked about 20 years in the local restaurant scene.