The commercial real estate market remains in a holding pattern, and speakers at the VCU Real Estate Trends Conference said it would take banks unloading repossessed properties to get things moving again.
More than 700 area real estate professionals gathered Tuesday at the convention center for the 21st annual conference held by the Virginia Commonwealth University School of Business.
Texas A&M economist Mark Dotzour addressed the issue of commercial and residential real estate tied up by banks.
"There is an overhang of properties in our banking system yet to be foreclosed on, and everyone knows it," he said.
Dotzour also said banks need to get the assets they have foreclosed on back on the market.
"If you are tired of transaction volume the way it is, you need tell Congress it's time to clear commercial real estate out of the banking system," Dotzour said.
But conference attendees don't expect any big changes in the market over the next year.
A new interactive feature allowed live polling of the crowd. When asked about their overall outlook for the next year, 64 percent said they expect things to stay the same, and 20 percent expected the market to get worse. Eight percent said they expect the market to improve.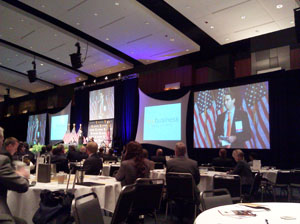 The crowd was also asked about their thoughts on the supply of money available for commercial real estate deals over the next 12 months. Fifty-seven percent said that they expect the level of funding to stay about the same. Thirty-three percent expected more money for real estate over the next year, and 9 percent expected less money.
The conference closed with a panel on the state of commercial real estate lending.
Kim Diamond, senior managing director of the Kroll Bond Rating Agency, said investors are slow to jump back into the market for commercial mortgage backed securities (CMBS), which funded much of the commercial development up until the 2008 financial crisis.
"The CMBS market has been struggling over the last year or so. The notion is that there is a very shallow investor base," Diamond said.
Marty Cropp, senior managing director of Principal Real Estate Investors in Des Moines, said that the overall economy is keeping investors out of real estate.
"At the end of the day, we need job growth so people feel comfortable that you will see good performance in real estate," Cropp said.
As far as the existing CMBS loans that will be coming due over the next few years, Jeffery Fastov, managing director of investment banking at Credit Suisse, said that most borrowers and lenders will figure out a way to refinance maturing loans.
"If the borrower is willing to pony up a little bit of money, the servicer will stretch it out," Fastov said, "There is a huge capacity to kick the can down the road."