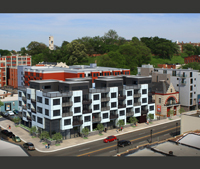 A $29 million apartment development in Shockoe Bottom is heading into the home stretch.
Developer Marc Galt, principal of Sensei Development, said that construction has started on the fourth and final phase of Shockoe Valley Heights, an apartment and retail development in the block bounded by Main, Franklin, 20th and 21st streets.
The final apartment building, dubbed Trolley Commons, will consist of 37 units and 4,240 square feet of commercial space. Galt said the project has a budget of $9.9 million. It will include a community pool.
"It took a little longer than we expected, but with the economy and lending environment the way it is, we are pleased we are going to have completed within a year of our original projections," Galt said.
Galt said he expects to wrap up construction on the final phase in June 2012. Union First Market bank is providing the financing for the final project.
Shockoe Valley Heights is a joint venture between Galt's company and Monument Construction. The entire project cost is around $29 million, Galt said.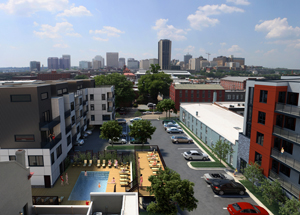 The developers just received their certificate of occupancy for the third building, called Old Stone Row. Galt said the 96-unit building has 28 units leased.
"We were a little worried about 96 units being delivered this time of year, but activity has been excellent," Galt said.
The first two apartment buildings are all leased, Galt said.
The first phase of construction started in the spring 2009 with the 41-unit Bobber Flats building. That phase was a historic tax credit conversion of a more than 100-year-old factory that made bobbers used for fishing.
That was followed by the historic conversion of the even older firehouse on Main Street, plus the construction of 24 apartment units in an adjacent new building. Those buildings are known together as Engine Company Lofts. A Virginia ABC store opened inside the first floor commercial space of the new building and a burger restaurant called Station 2 opened inside the firehouse.
"Station 2 is doing fantastic," Galt
said. "They are way ahead of their projections."
Although Galt and his partners at Monument Construction are winding down Shockoe Valley Heights, the next collaboration is right around the corner: an apartment project at Cary and 17th streets.
"We are under contract for part of the mini storage. We would acquire the top floors and part of the first floor of the building," Galt said.
Galt and Monument are also working on a project at 20th and East Grace streets.
The area has seen a boom in apartment development over the past couple of years with other developers, including Historic Housing, Emerson Companies and City & Guilds, completing or pursuing projects in the area and adding hundreds of apartments.
Despite the steady flow of projects, Galt said demand is high.
"From the studies I've read, we are approaching equilibrium. However, rents continue to rise, and all the product seems to be gobbled up," Galt said.