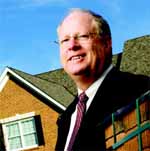 Progress is continuing its relentless march westward.
Developer Bob Atack announced last week that he had closed on a 70-acre parcel along West Broad Street for $6.75 million in cash.
The land is bounded by the Goochland County line to the west and Interstate 64 to the north. Its development will extend the wave of growth that has washed over the Short Pump area over the past decade and seen verdant farmland sold off to make way for homes, stores and parking lots.
Sonny Haynes previously owned the land. But Haynes, who planned to relocate his Jeep dealership, couldn't get the proper zoning, and then the economy went into a tailspin. Eventually the property ended up in the hands of Chrysler Financial, which had financed Haynes's purchase.
BizSense caught up with Atack at his Innsbrook office to find out more about his plans for what seems to be the last unconquered frontier in Western Henrico.
Richmond BizSense: Why did you set your sights on this property?
Bob Atack: It is probably the largest contiguous piece of real estate on Broad Street, and it has 1,200 feet of frontage on Broad. The county land use plan calls for urban development, similar to that of West Broad Village. That has had its challenges, as it was developed at the worst time of the market, but I think it is doing well now.
When the market recovers, whenever that is, we believe this property is superiorly located.
RBS: This wasn't your first attempt to buy the property.
BA: I made an offer once years ago directly to Chrysler for $10 million. I made another offer 18 months ago for $5.1 million. Earlier this year, they finally put the market on the property with Pete Waldbauer at Cushman & Wakefield | Thalhimer. I made an offer around April, and we closed on the property October 27.
It wasn't an extensive negotiation. They decided to sell, and the market voted and we were the high bidder. It was not a beauty contest other than who would write the biggest check the fastest.
RBS: Exactly what type of development are you planning for this site?
BA: We would look to develop a mix of uses that would be commercial, residential (apartments and/or condominiums) and medical office, which there is strong demand for in this vicinity.
RBS: Why do you think apartments would be the best residential use?
BA: There is high demand for high-end apartments in Henrico County and not a lot of opportunities. So there is a marketable demand and a lack of supply.
RBS: What about commercial? Do you worry that the area may be over retailed at all?
BA: I have no delusions of grandeur about the commercial components of the property. There have been a number of national retailers purportedly interested in locating in the Broad Street corridor, but we are cautiously optimistic on the commercial components of this development.
RBS: What about traffic? The corridor is very congested.
BA: Traffic is a legitimate concern. The county has made significant investment to construct an extension of Gayton Road. (Read more about this here.) This extension will really relieve traffic and is a real asset for preventing future bottlenecks.
RBS: What is your timeframe? How soon could you start work on the project?
BA: We intend to work on the entitlements and hope to file a zoning case in the first quarter of 2012. At the same time we are working on these entitlements, we are hopeful the market will continue to get better. It will probably be in the first quarter of 2013 before we can do any construction.
RBS: How much do you see yourself investing in the development of the property?
BA: I think it is fair to say the project will be around the $100 million mark.