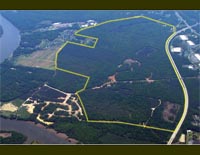 Economic developers in Chesterfield County are fast-tracking a massive distribution center, but officials are keeping mum on who it's for.
Several sources in real estate say they've heard that Internet retail giant Amazon might be behind the development. And one commercial real estate broker said he toured industrial space with Amazon's people.
Chesterfield leaders aren't sharing just yet.
"I can't discuss the project," said economic development director Will Davis. "We don't discuss projects real or imagined."
The Chesterfield Economic Development Authority submitted the site plan for the more-than-1-million-square-foot single-story distribution center at the end of October, and the planning department responded with comments last week.
One million square feet is about three times the floor area of the Greater Richmond Convention Center, or around 20 football fields.
The distribution center site, which includes plans for more than 2,800 parking spaces, is located in the Meadowville Technology Park, which consists mostly of forested land east of Interstate 295. Chesterfield County's Economic Development Authority acquired the 1,300-acre tract in 2005. It was originally put together with the intent of attracting semiconductor plants.
Northup Grumman is the only business in the park, where the defense giant has a 167,000-square-foot operations center that employs more than 600 people. That $35 million project broke ground in 2006.
The proposed distribution center would be just southeast of the Northrop Grumman building and accessible from Meadowville Technology Boulevard, which is under construction. Local civil engineering firm the Timmons Group drew up the plans.
A ribbon cutting for the Meadowville Interchange, which provides access to the park from the interstate, is scheduled for Dec. 15. The road project, financed by state, federal and local funds, is estimated to have a budget of about $17 million.
"This interchange is just going to position the park and further position the county to be very competitive for projects," Davis said.
Evan Magrill, a broker with Cushman & Wakefield | Thalhimer, said he has heard about the project but not who it's for.
"I've been poking around but haven't heard anybody on the inside of it with a comment," Magrill said.
"It would be one of the largest buildings in the area."
BizSense was unable to confirm that Amazon is a potential tenant, but that idea isn't far-fetched. Amazon has a fulfillment center and data center in Sterling, Va.
The site and size of the building are similar to those of other Amazon fulfillment centers, where items purchased online are placed into packages and dropped in the mail. The Meadowville site is close to UPS and FedEx shipping hubs.
The Seattle-based company said in its recent third quarter earnings call that it has stepped up plans for building fulfillment centers, stating that it planned to build 17 this year, two more than originally planned. The company's fulfillment centers are known to employ about 1,000 people each.
The president of a local construction firm said he had heard about the proposed warehouse and that he heard Amazon mentioned as the likely user.
An industrial real estate broker said that he heard the same thing and that he had shown some properties to Amazon representatives about eight months ago — but that they were looking for a data center site.
A source close to the McDonnell administration said he's heard Amazon mentioned recently as well.
Amazon is also considering a site in Delaware, according to DelwareOnline.com. Local development officials there are also keeping mum.
The company is nearing completion of a million-square-foot distribution center near Columbia, S.C., representing a $125 million investment and creating an estimated 2,000 new jobs this fall.