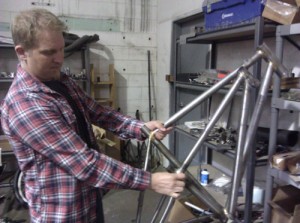 The name might be Dutch, but the product is made in Richmond.
Hinmaton Hisler is the designer and builder behind Stijl Cycles, a two-year-old company based in Manchester.
Hisler is one of the three principals of Tektonics Design Group, which has a large fabrication shop in Manchester. The company designs and manufactures metal and wood components for buildings and furniture, among other projects.
But a corner of the shop is dedicated to Stijl (pronounced Schteel), where Hisler hand-builds mountain and road bikes.
BizSense caught up with Hisler to see how he got started with his side business and how it's doing.
The following is an edited transcript.
Richmond BizSense: How did you get into building bicycles?
Hinmaton Hisler:  I had started a company before this one building aluminum specialty bikes. I decided I had the equipment and desire to build bikes. I took it upon myself to figure out how to do it. I did a lot of research and contacted people within the industry.
RBS: What happened to the first company, why start a different one?
HH: My first company was making trial bikes [a specialty mountain bike designed for different obstacles]. In the states, the slice of that market within my grasp was similar to the custom BMX market but even less so, more niche than that. The demographic was mostly teens and 20-year-olds with not much money. I realize I couldn't afford to make them for what I could sell them for.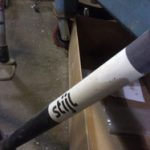 RBS: What makes Stijl bikes different?
HH: With all the knowledge I accumulated, I knew that there was a more viable market for mountain and road bikes with handmade frames.
I was working really hard [to learn] about the geometry of a person's body, the bike and the biomechanics of how they fit together.
Where that didn't apply to trial bikes, or people didn't care enough to pay for it, all of that info was relevant to the more traditional cycling sports.
RBS: What is the turnaround time to make a bike?
HH: Usually six months. Because the bike company is still fledgling and sits within Tektonics, it has to fit within my schedule with everything else, which makes build time a lot longer.
Right now I am in the design phase of three bikes and finishing up four bikes that are about to go to paint.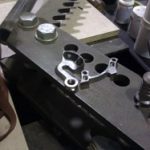 RBS: How much do they cost?
HH: The retail price range starts at $1,700 to $1,900 depending on tube set choices.
RBS: What do you see as the next step?
HH: I'd like to scale up eventually. I would love to be building 100 to 150 bikes a year for all local customers.