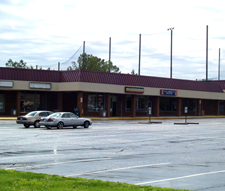 Part of an aging shopping center is going up for auction next week after its owner reneged on his bankruptcy reorganization plan and skipped town.
Rockwood Square LLC, the owner of Rockwood Square Shopping Center at 10165 Hull St., filed in April 2009 for Chapter 11 bankruptcy protection. Christopher White, the principal of Rockwood, put the entity in bankruptcy a few months after WaWa pulled out of a lucrative ground lease agreement that would have netted more than $3.7 million over 20 years.
For months, no one has been able to reach White, and now the banks are taking back the property.
The 53,750-square-foot center is anchored by a Big Lots. Other tenants include a pizza shop, a nail salon and an insurance agency.

A reorganization plan approved in October 2010 required White to pay back his creditors with rental income from the property. But a few months later, White's attorney, Robert C. Smith, began receiving calls from creditors that they were not receiving payments. Smith tried reaching his client, but he was nowhere to be found.
"I withdrew as counsel in July when I learned that some of the unsecured creditors had not been paid," Smith said. "I'm not representing anybody anymore. I'm unsecured like everyone else."
Smith said he is owed $38,000 in legal fees.
White, who has an address in Alabama, according to court documents, could not be reached for comment.
Smith filed a motion in October to convert the case to Chapter 7 liquidation, which was approved by the judge Nov. 23.
Three secured creditors hold parcels of the shopping center as collateral: Virginia Commerce Bank was owed $3.55 million; First Capital Bank, $2.1 million; and Lowes Food Stores, $172,940.
Virginia Commerce Bank was granted a relief from stay prior to the conversion and is auctioning its parcels Dec. 9 at the Chesterfield County Courthouse. The trustee for the sale declined to comment.
The bank is auctioning three parcels, which include the 1980 shopping center building and most of the parking lot. The other creditors hold a portion of the parking lot, a wooded area behind the center and a separate property occupied by a day care. Those are still subject to the bankruptcy case and are subject to liquidation, Smith said.
First Capital has a motion for relief from stay pending.
Smith said he isn't sure why White did what he did.
"It's a second-tier center, but it's in an incredible location," Smith said. "Even being 50 percent unleased, the center was producing significant income."
As of May 2010, projected annual revenue was between $557,000 and $797,000. In his motion to convert the case to Chapter 7, Smith said that White stopped providing monthly operating reports after the plan was approved more than 14 months ago.
The approved bankruptcy plan had White paying off 100 percent of his debts to both secured and unsecured creditors. VCB had even agreed to make available a $243,750 line of credit for tenant improvements.
There are about 20 unsecured creditors who are owed just over $100,000.
Among those is Powhatan-based Jord Construction, which completed a $250,000 renovation on the property prior to the owner's financial troubles.
"We gave it a major facelift, minor compared to what it could have been. We redid the landscaping and masonry, sealed the parking lot and put in new lighting. It was a lot of work," said Bill Farrar, president of the company.
White had paid most of the bill before the bankruptcy, owing Jord $47,000 at the time of filing. But since the plan was approved, Farrar hasn't been so lucky.
"I never received another dime, not a single check or anything," Farrar said. "I'm pretty sure it's gone 'poof.'"