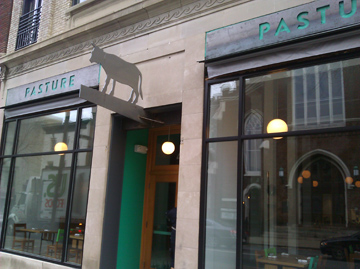 After a long legal career, attorney Ry Marchant is taking a stab at a resurrecting a location that would challenge even the most experienced restaurateur.
Pasture, which opened recently, has been getting a lot of buzz in restaurant circles.
The restaurant has the requisite foodie bona fides: Marchant partner is chef Jason Alley, the owner of established dining hotspot Comfort. The space, inside a former clothing shop called Montaldo's, got a top-notch renovation at the hands of developer Bill Chapman.
But the big challenge facing the restaurant is its location: It is the sole sign of life on an otherwise blighted and vacant strip of former retail glory along East Grace Street downtown.
BizSense caught up with Marchant, 59, to find out why he thinks the area will take off and how he ended up going from serving clients to serving plates.
Below is an edited transcript.
Richmond BizSense: How did you transition into the restaurant business from being a partner at your law firm (Marchant Thorsen Honey Baldwin & Meyer)?
Ry Marchant: I've been a practicing law attorney for the last 32 years. I've been a part-time substitute judge for 21 years. I bought Six Burner a little over six years ago and kept practicing full time until just recently.
Over the last eight months I have scaled down my law practice, and I am now busy with real big projects. It's more than just two restaurants. I've also got two apartments above Six Burner, four apartments above Pasture and the office building on Grove where the law office is based.
RBS: Were restaurants just something you always wanted to do?
RM: I've always liked the hospitality industry as far back as college. I thought about getting into hotel management, but I was also interested in law and public affairs. I could have gone either way, but I ended up doing law and did a whole career worth of that.
I got to the point where my children have grown and I can afford to take more risks. I decided if I wanted to do these other things, I'm not getting younger.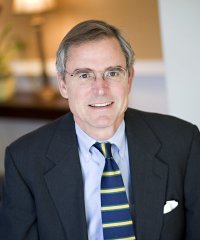 RBS: Speaking of risks, you are setting up shop on a mostly vacant block of retail properties. What are you thinking?
RM: Being part of renovating that central business core downtown that used to be this great exciting place is very challenging, and I am very happy to see it come to fruition.
The challenge is somewhat obvious: to get people to come to an area that is not fully developed yet. On the other hand, it is a real opportunity to be first on block and try to be first domino to help that process of development along.
RBS: But aren't you a little bit worried about being the first one in? Do you really think the area will take off?
RM: I know a few other people poking around on our block with some interest. I think there is really a lot of momentum out there right now, and I think our place is just one more little push.
When you look right around corner, you've got the John Marshall being developed, which is 238 apartments, and the new Centerstage is down the street.
RBS: Centerstage opened a few years ago, as well as the National Theater and the new Federal Courthouse. Why do you think new activity has been so slow to take off?
RM: You have to realize in the fall 2008 the market completely crashed. I was looking at leasing another spot on Grace Street in 2008, a little further toward Centerstage.
I got out of that deal that I had waited six months for and waited another year or so to go by before I saw the Montaldo's store with the for sale sign on it.
As for the retail space on the first floor of Miller & Rhoads, frankly I think they are asking too much rent for an area on the edge of development.
RBS: Is there anything the city can do to help development along the area?
RM: The city has been very cooperative. I got a $100,000 loan from the economic development department at 4 percent interest and interest only for 18 months. That is a big help. We plan to get some more in the end with historic tax credits.
The city is also putting in new streetlights on the block, and they have helped provide some parking spaces at a competitive rate. They have been very helpful.
RBS: How much did you invest in Pasture?
RM: The total cost of the project is $1.4 million. The building cost $325,000. I got a loan from Union First Market for $825,000 and another line of credit for the tax credit money.
RBS: Your father, John, was president of Miller & Rhoads when it was a department store. How did that shape your entrepreneurial spirit?
RM: My father started out as a guy who stood in front of the elevator that went to the Tea Room. The Tea Room was a great big place for lunch, and it had a runway where models would model clothes. He retired in 1978 as president. He worked his way up through the entire chain.
It was sad for all of us when Miller & Rhoads closed, but I think he was very enthused to see the building come back. He passed away in 2008 before I purchased Montaldo's, but he was very enthused that I was interested in doing something on Grace Street.
I always had a little bit of hospitality or retail interest in me having grown up in Miller & Rhoads. I couldn't do that while practicing law. Now that part has come out.