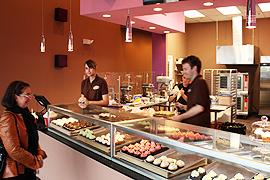 A locally owned cupcake shop will be featured in an upcoming Food Network television episode. Frostings, located in the Short Pump Station shopping center, will be competing on "Cupcake Wars" on New Year's Day.
Owner Matt Fraker auditioned for the show last spring. In each round, bakers are given an assortment of secret ingredients and a time limit to create a cupcake.
A panel of judges evaluates each contestant on creativity, taste and presentation. After each round, someone is voted off. The winner gets $10,000 and has his or her cupcakes featured  at a culinary event.
"All they would tell us is they were casting for 'Cupcake Wars' and that if we were interested, we should send them a picture of the chef, assistant, one of the store and a couple of our cupcakes," Fraker said in an interview last year.
They sent in the materials the same day and made it to the next step, which meant filming a three- to five-minute video highlighting their business.
The episode will air on Food Network at 8 p.m. Jan. 1.
Frostings' original audition video can be seen its in entirety below.
[youtube]http://www.youtube.com/watch?v=qQxk4oYazg8&feature=player_embedded[/youtube]
This story orginally ran on Downtown Short Pump, an RBS news partner.