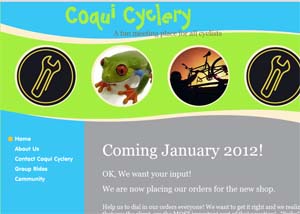 Two entrepreneurs are going where the customers are. Or at least where the potential customers meet before going on bike rides.
Ann "Spike" Toler, 50 and Clint Kronenberger, 40, said adjacent to Forest Hill Park was the perfect spot for their new bike shop, Coqui Cyclery, because of the nearby trails and the number of cyclists in the area.
"We all gather at Crossroads after our rides," Toler said, referring to the coffee shop across from the park.
The shop, set to open late this month, will fix and sell bikes, as well as lead weekly group rides through Forest Hill Park.
Kronenberger said the shop will carry everything from "the high end triathlon bikes to a child's first bike with training wheels on it."
He said the shop will carry Pivot Cycles, a brand based in Arizona.
And the pair hopes to capitalize on Richmond's growing bike scene: Richmond hosted the XTERRA East Championship in June, which features mountain biking, running and swimming events in and around the James River. Richmond MultiSports has also hosted triathlons in the area since 2004.
And in 2015 Richmond will host the World Cycling Championships, a major international road race.
The business partners aren't the first to roll out a bike startup here for the avid cyclist either. Richmond Cycling Corps, a non-profit that takes underprivileged youths on cycling trips, recently opened a bike studio in Scott's Addition that sells bikes and offers cycling classes.
A love of bikes brought the two together. Kronenberger, a longtime bike mechanic, built a mountain bike for Toler.
Last year, Toler apprenticed for eight months under Kronenberger at Endorphin Fitness, a West End triathlon bike shop.
"That's when I realized how good he was," she said.
Kronenberger has been tinkering around with bikes since he was a kid.
His father owned a bike shop in Florida for 20 years before Kronenberger took over and ran it for 15 years. After moving to Richmond three years ago, he worked as a mechanic and manager for Endorphin Fitness.
After about a year, Kronenberger decided he wanted to own his own shop again.
"I couldn't work for anybody else. I had to do it myself," he said. "My clients have been pushing me to open up my own store for the last year or two."
He left Endorphin five months ago and the two leased the 1,500-square-foot space at 3416 Semmes Ave. in November, Toler invested about $75,000 to $100,000 in the business.
Coqui will be the first business to go into the shuttered space in seven years. It was originally built in 1940 and served as Owen's Service for years before being converted into a grocery store, a sign shop, a lawnmower service business, and finally an Appliance King.
The name of the shop is a common name for several species of small frogs in Puerto Rico. Toler said the name came to her after she traveled to Puerto Rico in October.
Kronenberger and Toler plan to start selling bikes within the first month of opening the shop and start offering group bike rides from the shop in the spring.