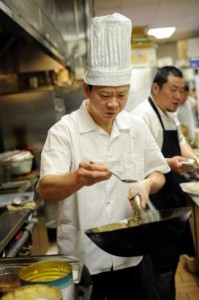 Where in the world is Peter Chang? Coming to Richmond, apparently.
The Chinese chef famous for opening restaurants across the southeast and then disappearing to start his next venture has leased space in Short Pump Village in Henrico County.
Chang started in Fairfax with a restaurant called China Star, and has since moved to other Northern Virginia locations plus Georgia and Tennessee. He also has one in Charlottesville.
Chang has developed a following for his Szechwan cuisine with many of his fans stalking him from restaurant to restaurant. Chatter about his whereabouts and food is constant on the sites DonRockwell.com and Chowhound.
There's also an entire website dedicated to all-things Peter Chang related. Plus he's been the subject of a New Yorker profile.
Chang will open the restaurant Peter Chang's China Café at the end of February, according to Richmond.com.
Read more: