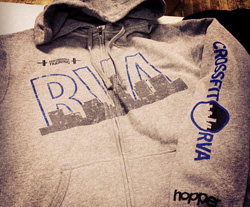 Two friends strapped for wedding cash have launched a fitness apparel business for like-minded athletes.
Andrew Bleckley and Zac Frederick have been testing their startup, Hopper Apparel, at CrossFitRVA, a rapidly growing gym they've both worked out at since 2008.
Bleckley and Frederick are trying to ride that wave with a fresh brand catered specifically for the CrossFit crowd.
"People are very loyal to the brand and the lifestyle," Bleckley said.
Hopper supplies the gym with a line of T-shirts, tank tops and hooded sweatshirts for CrossFit members to don while pumping iron at the West Leigh Street gym.
CrossFitRVA has moved to a larger space twice in the last four years with simple but intense exercises such as pushups, pull-ups and squats. The workouts are also done in groups and led by a trainer.
One of the shirts from the line has in big letters "FR*N", a reference to a notorious workout at CrossFit that's so difficult, the word has become like a curse.
"A lot of CrossFit shirts out there you wouldn't want to wear in public," Bleckley said. "Ours is a little bit more refined, something you wouldn't feel like a meat-head in."
And now that they've tested their model at the Richmond gym, the two plan to get to know other gym operators in local CrossFits and hopefully outfit those gyms in the next couple of months. There are 68 other CrossFits around the state including four in Richmond.
Bleckley said part of the startup's strategy is to help CrossFit gyms keep an inventory of stylish apparel in stock that features a high-quality garment with catchy graphics – often the logo of the gym.
CrossFitRVA owner Jake Rowell, who's been selling the shirts the last few months, said having his own line of shirts was getting to be a hassle.
"The results aren't always that great and it takes a while to find a good graphic design person," he said.
"We were limited on the shirts for awhile so carrying something routinely has been good," he said.
Rowell didn't have exact figures, but said many of the gym's 250 members have bought shirts and wear them regularly. Hopper T-shirts sell for about $25. The hooded sweatshirts go for around $45.
Local CrossFit-ers are starting to turn the startup into a profitable one. He said he will order approximately 100 shirts at a time and Rowell re-orders from him every couple months.
The idea for the startup came last year when the two friends were racking their brains for ways to raise some much-needed cash for their weddings.
"Both of us were getting married in the fall about a month apart," he said.
After hearing about a big competition CrossFit was having in August, Bleckley said the light bulb went off.
"We thought, hey let's put together a small T-shirt operation with CrossFit-type sayings," he said. "It's a big thing in the gym scene."
And the cost to lift the apparel startup off the ground wasn't too heavy.
"We were both getting ready to get married so there wasn't a lot of extra," he said. "We threw in $50 here and $50 there."
After writing a business plan and printing 120 shirts, the two introduced Hopper at the competition.
"We thought we'd do this one event and see how it goes," Bleckley said. "We came up with a couple of T-shirt designs and I came up with a logo in about five minutes."
The pair sold 80 percent of their shirts.
"That convinced us to pursue and develop the brand," Bleckley said.
From there the two struck up a deal with Rowell.
The biggest hurdle for Bleckley has been trying to manage the side gig while working full time.
The 32-year-old is a partner in the landscape design firm citedesign. Frederick, 29, works for the Linden Group, an affordable housing development firm.
Seeing Crossfit members working out in their gear has been extra rewarding.
In the next few months, the duo plans to bring out a line of shorts, pants, and V-neck shirts for women. They are also considering a line of caps.
"It's cool to see someone running a 10K with a shirt on or walking around the gym wearing a Hopper shirt," Bleckley said.