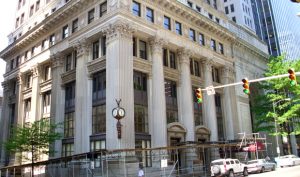 One of Richmond's first skyscrapers is getting the old historic-rehabilitation-into-apartments treatment.
The neoclassical First National Bank building at 823 E. Main St. and its neighboring building at 825 E. Main St. are being converted into 154 apartments as part of a $30 million project.
Rushmark Properties purchased the building in 2000 for $9.5 million. The most recent tenant was North Carolina-based bank BB&T, which moved in July 2010 to Riverfront Plaza.
"We caught wind that BB&T was thinking about moving out, so, before they moved, we were talking about what the best use of the property would be," said Patrick Kearney of Rushmark Properties. "Commercial real estate has been slow nationwide. The building lends itself to apartment because of the small floor plates, so it was decided that apartments were the best alternative."
Rushmark will spend $30 million on the First National Bank apartments on a loan from Bank of America, Kearney said.
The apartments will range from one to three bedrooms and 562 square feet to 2,235 square feet.
HITT Contracting, a Northern Virginia contracting firm, is doing the renovation, and Hampton Roads-based Drucker & Falk will manage the apartments. Commonwealth Architects, a Richmond company, is the architect.
"With the decline of commercial real estate in the area, we thought this would be a great opportunity to convert the building into apartments," said Bernard Potere, who is the project manager for HITT. "It's very exciting, especially with all the history behind the bank building."
The bottom floor will be zoned for retail businesses, Potere said.
According to a news release, the First National Bank building was built in 1913. First National Bank, which formed days after the Civil War ended, hired New York architecture firm Clinton and Russell to design its new headquarters.
Clinton and Russell were also the design lead on the American International Building, the tallest building in lower Manhattan,  and the iconic New York Cocoa Exchange building.
Downtown Richmond's old buildings are popular targets for conversions. A few blocks away from the forthcoming First National Bank apartments, about 240 apartments are coming online at the former Hotel John Marshall.