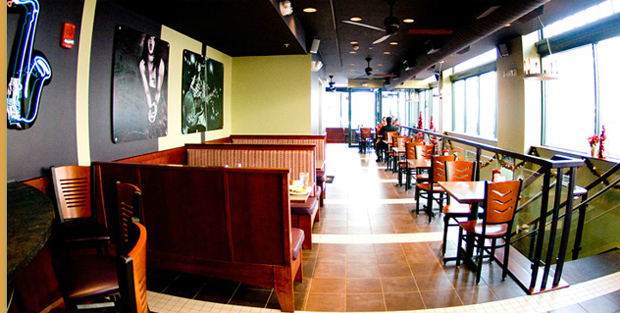 With all the restaurants popping up across town, someone has to have an eye for making each one stand out from the pack.
That's where Helen Reed comes in. For almost two decades, she has run HL Reed Design, slowly making a name for herself by designing the insides of Delux, Ruth's Chris Steakhouse, the Blue Goat and, most recently, the restaurant going into the Berry Burk building.
BizSense caught up with Reed to find out how the design process works for a restaurant, how much people are spending and what's going on in the design industry.
Richmond BizSense: What was it that drew you to the restaurant scene?
Helen Reed: I worked my way through school in restaurants from the time I was 16. When I was waiting tables, I fell in love with the industry. Being able to design for the public is fun. If I can design something that 80 percent of the public and the clients are happy with, then that's what makes me happy.
RBS: What projects are you working on?
HR: We have about seven restaurants. We're working on BlowToad [formerly Double T's], Mint, Blue [a restaurant near Sam Miller's], [email protected], and 525 at the Berry Burk. We're also working with the West Cary Group. We have about six projects that are under construction or getting ready to go under construction.
RBS: How much does interior design for a restaurant usually cost?
HR: Construction today can range from $50 to $250 per square foot or even higher depending on the level of finishes and build-out that is occurring in the construction and the space. Design fees range from $2,800 to $30,000, which can be quick furnishings and minimal drawings to the entire interior for large, full-scale restaurants.
RBS: How has business been?
HR: Last year was not a good year. It was the first time I've ever seen a few of our clients that had to close their doors. The restaurant industry is tough.
RBS: How long does the process take?
HR: It can take couple of months, but it can also be turned around in two weeks. The restaurant 525 was a 90-day turnaround. We did the Boathouse [Rocketts Landing] in 120 days. It's hard — you have to interpret so many things, so it's important that everyone gets along and that you listen to the needs of your clients.
RBS: What's going on in the design industry? Are people shelling out extra to spiff up their business?
HL: The hospitality industry has been low, but people are coming back to spend money. Budgets have changed dramatically. People are trying to get more for less. It's all getting ready to change. Richmond has always been a great restaurant town. I think the East Grace Corridor is starting to come back. Rocketts Landing and Reynolds Crossing are going to be great. I have friends that have firms across the country, and they are seeing it pick up.
RBS: How has your business grown over the years?
HR: I started out of my dad's ad agency on West Main Street. In 2006, I moved to East Franklin Street and was there for eight years until I moved across the street, where I've been since the end of last year.
RBS: What do you have coming up for this year?
HR: I have a couple of projects in the next couple of months in North Carolina, D.C., Lynchburg and Roanoke that are restaurants, corporate and higher education. I'm already scheduled into February with new projects.