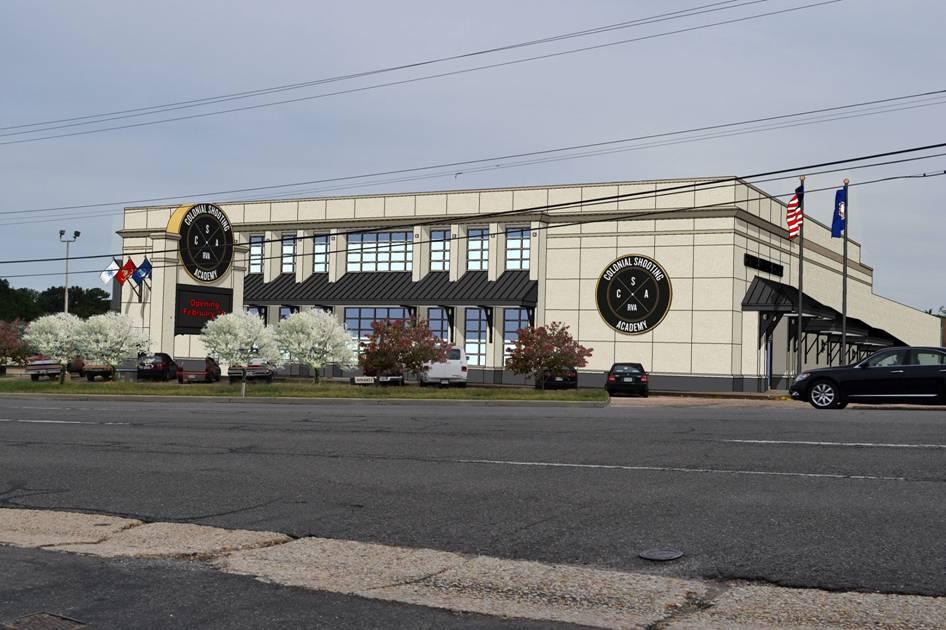 Ed Coleman is passionate about guns, and he's creating a home away from home for other local enthusiasts.
The 60,000-square-foot Colonial Shooting Academy on West Broad Street near Horsepen Road is slated to open in mid-March, and it will be one of the largest indoor shooting ranges in the country.
Coleman will be the general manager of the academy. He has spent the bulk of his career as a general contractor but for the better part of 40 years has been affiliated with a large outdoor range in Hanover County called the Cavalier Pistol and Rifle Club.
BizSense caught up with Coleman for a tour of the massive facility, which will include more than 50 25-yard shooting lanes, a large retail space, a 10-by-30-foot gun safe for members, a members lounge, a cafe and an 1,800-square foot mock-up house in the basement for tactical training.
Chesapeake Bank is the lender on the project. KBS is handling construction of the range.
The following is an edited transcript.
Richmond BizSense: What is your target audience?
Ed Coleman: We are going for the precision and tactical shooting crowd, and we'll mostly stay out of the hunting crowd. We are also going to give law enforcement a place to do their qualifications in the city. Right now they've had to travel sometimes out of state to get their [qualifications] in.
RBS: What are the startup costs going to look like?
EC: Between $11 million and $12 million.
RBS: How much are you going to charge for memberships?
EC: The basic membership will be a $100 initiation fee and $35 a month. For the public, you can reserve a lane for $20 per hour. So if you shoot two hours a month, the membership pays for itself. We also have a private membership for a $2,500 initiation fee and $200 per month. Those members will have a private lounge where they can get [refreshments] and use private shooting lanes.
RBS: How many memberships have you sold?
EC: The number is already in the hundreds between the basic and private members. Most of those are the basic members.
RBS: What types of guns can people shoot?
EC: The range is rated for up to .30 caliber bullets, or 7.62 mm, which means you can fire a machine gun in here. [The U.S. Military uses 7.62 rounds in the M14 rifle and in the M60 machine gun.] But you'll be able to shoot the rifle, pistol and shotgun in here as well.
RBS: How many employees will you have?
EC: We'll have about 25 to 30 employees along with part-time instructors.
RBS: What are some of the features that are going to stand out about the academy?
EC: The biggest thing is that we're primarily focused on safety and training. We're also going to have the most up-to-date equipment and the most knowledgeable staff available.
RBS: Tell me a little bit about the expertise you'll employ.
EC: I've got more than 30 years of experience in range management and design. I've also been a National Rifle Association instructor for more than 20 years and have a lot of experience teaching. For our retail space, I've got a sales manager with more than 20 years in the retail firearms business and who is one of the most knowledgeable in the field. In fact, all of our leadership staff will have more than 10 years' experience.
RBS: What would you say to a community member who might have concerns about such a large gun establishment in their neighborhood?
EC: I'd say that our range is designed so that not one bullet will ever leave our facility and that we've followed the recommendations of the most successful and safe gun ranges in the country.